Story courtesy of Blooloop (July 25th, 2017)
Here's all you need to know about Wet'n'Wild Toronto.
First of all, you might like to know that it's not actually a new park. Yet, after a $25 million (US$20m) investment by Premier Parks, the former Wild Water Kingdom and Sunshine Beach Water Park sure feels like one. The 99-acre facility sits in Brampton, part of the Greater Toronto Area (GTA). It originally opened in the 1986. However, it hasn't had a major new slide or water attraction since 2002. Until now.
Relaunched on June 24 as Wet'n'Wild Toronto after an 11-month construction period, the new-look park features 33 slides and a further 12 attractions, both wet and dry. ProSlide®, which supplied the original slides to Sunshine Beach back in the '80s, was back on board with a bang up-to-date selection for Premier Parks. The Aquatic Development Group, led by Jim Dunn, provided the park's new masterplan.
The transformation from Wild Water Kingdom to Wet'n'Wild represents what general manager Steve Mayer refers to as a "complete extreme waterpark makeover."
Before it reopened, the park stood idle for two successive summers. Its former owner pulled the plug at the end of the 2014 season. Construction work on behalf of Premier Parks began last July.
Mayer, whose previous experience includes management roles at Hawaiian Waters (now Wet'n'Wild Hawaii), Hawaiian Falls in Texas, Geyser Falls in Mississippi and Six Flags' Waterworld California, explains the challenges that awaited in Brampton, GTA: "Not only did we have challenges with the complete disrepair that the old park was in, but also we had to overcome public perception that we are not the old park. At Wet'n'Wild Toronto we are dedicated to serving a quality guest experience."
Mammoth attractions
The park now features such enticing new slides and attractions as Typhoon, which is Canada's first ProSlide® CannonBOWL™ 30, Caribbean Chaos (ProSlide® TornadoWAVE® 60) and Krazy Kanuck (ProSlide® MAMMOTH® raft ride). Appearing by the rather wonderful moniker of Oh Canada! is the park's first ever capsule-launched waterslide experience, a double SkyBOX™/SuperLOOP™ installation.
Also from ProSlide® are Hurricane (PIPEline™), Klondike Express (4-lane OctopusRACER™) and two KIDZ TWISTER™ and KIDZ MiniRiver™ attractions. In addition, there are two new RideHOUSE® play structures, namely Bear Footin' Bay and Wet'n'Wild Jr.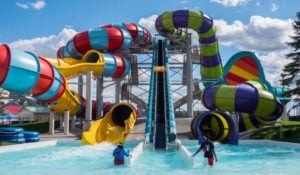 (Krazy Kanuck, ProSlide® PIPEline™/CannonBOWL™ 30)
Getting a stay of execution from the days of Wild Water Kingdom are the slides Bermuda Triangle, Cannonball Falls, Polar Pipeline and Tropical Twister. Half a million gallons of water surge through the park's Big Surf wave pool. Guests wanting to take it easy on the water can grab a tube and float along the Muskoka Soakah lazy river or kick back in the secluded pool at Coconut Grove.
The Jet Stream Zip Line, which was installed in 2012, allows guests of at least 54 inches in height to soar above Wet'n'Wild. "The zip line is a nice touch," believes Mayer. "It gives a thrilling but also amazing visual as you zip across the park.  If any other 'dry' attractions were also a good fit to the existing waterpark attractions, we would certainly consider them in future."
Canadian Beavertails, Poutine and Pizza Pizza
Marketed as "Authentically Wet'n'Wild, Distinctly Canadian" the park's positioning provides a playful riff on Disney's description of its resort in Shanghai. The ProSlide® attractions certainly give it a domestic flavour. But how else is the waterpark faithful to the land of the maple leaf?
"We've changed some features of the RideHOUSE® to reflect Canada," explains Mayer. "Our menu incorporates Canadian dishes that are not typically found in the United States, such as Beavertails, Poutine and Pizza Pizza. We've also added more Canadian artists to the in-park radio system. Staff uniforms have even been selected with a salute to Canada, especially with this being the nation's 150th Anniversary."
In keeping with Wet'n'Wild properties in the USA and Australia, the park is landscaped rather than fully themed. It fuses the existing landscape with subtle Caribbean touches and vividly-coloured attractions.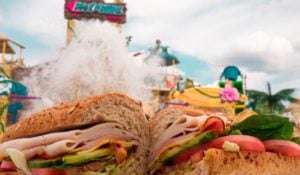 Wet and Wild around the world
Premier Parks also operates Wet'n'Wild waterparks in Phoenix, Palm Springs, Houston and Hawaii. Parks of the same name are operated by Village Roadshow in Las Vegas, Sydney and the Gold Coast in Australia. These are not to be confused with Wet 'n Wild (just one apostrophe) from different operators in North Carolina, Mexico and Brazil.
Led by former Six Flags chairman/CEO Kieran Burke, Premier Parks boasts a further 12 theme parks and waterparks across the United States. The company had apparently been interested in the Toronto market for some time, based on the sheer population base.
"There's close to 8 million people in the Greater Toronto Area," notes Mayer. "It is about the last major market left in North America without a standalone waterpark. We are proud to have rebuilt Wild Water Kingdom into a first-class waterpark. Canadians will be proud to call it their own."
Over at ProSlide® HQ in Ottawa, the company's vice-president of business development, Phil Hayles, has been working with Premier Parks for many years. "They run a very tight operation," he observes. "What they have created in Toronto is a highly custom-designed waterpark that becomes one of the leading parks in Canada. It's certainly our largest ever project in this, our home country."
(Bear Footin' Bay, ProSlide® RideHOUSE® 500)
Local competition
Canada's Wonderland, the nation's market-leading amusement park, also in Greater Toronto, will be watching with interest. Since 1992, the Cedar Fair owned property has featured the Splash Works waterpark, entry to which is included with main park admission. The season it added a new slide complex from Splashtacular called Muskoka Plunge. "With the new competition from Wet'n'Wild, I'm sure they'll have to update a lot of the earlier attractions at Splash Works," predicts Hayles.
"ProSlide® has some of the best family water attractions in the industry," says Mayer. "They have been a loyal provider to Premier Parks and Wet'n'Wild over many years. With them being nearby to us, it only made sense to choose them as supplier of choice for the new park in Toronto."
With fair weather, and based on Premier Parks' experience at similar waterparks, attendance this season (to September 4) is predicted to be somewhere between 300,000 and 500,000. Families, of course, are the key target demographic. Yet groups are becoming an important part of the park's business too. Several large firms have already signed up for company picnics, and hundreds more for Wet'n'Wild's corporate discount programme. Other Canadian vendors included Soucy Aquatik from Quebec, which provided pools and plumbing. Record rainfall this spring in Ontario created some challenging conditions for suppliers and contractors. However, overall construction went well, says Mayer.  "For me, the highlight of this project has been being a part of a great team of people. A team that never gave up during some difficult times," he adds.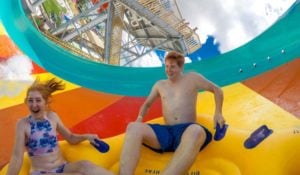 (Caribbean Chaos, ProSlide® MAMMOTH®/TornadoWAVE® 60)
Expansions for Wet'n'Wild?
As the park's offering is of a regional nature, in a region where summer is especially short, "the need for a season pass for an outdoor waterpark is not something that would naturally appeal to the general public," says Mayer.
But there's certainly scope for expansion at Canada's first Wet'n'Wild. "We currently sit on 45 acres of a 99 parcel of land," concludes the Toronto park's GM. "We'll see how this year goes. Then we will determine the many different expansion options that are available at the end of the season."