Mit freundlicher Genehmigung von GoErie.com (29. Juli 2017)
Niemand zögerte, sich am windigen Freitagnachmittag in die Battle of Lake Erie (Schlacht auf dem Eriesee) zu stürzen.
Viele kamen damals als zitternde Soldaten davon, aber eins kann man mit Sicherheit sagen: die um 15 Uhr durchgeführte Eröffnung der neuen Wasserattraktion im Waldameer Park & Water World's , die nach der berühmten Schlacht im Krieg von 1812 benannt ist, war ein Sieg – vor allem für die Parkbesucher, die keine Ahnung hatten, dass sie zu den ersten gehören würden, die sie erleben.
"Es ist einfach großartig", sagte der 39-jährige Wayne Christ, der seine beiden Töchter und seine Frau aus Pittsburgh mitgebracht hatte, um einen Tag lang Spaß zu haben. Er war klatschnass, nachdem er eine der sieben Rutschen der Attraktion hinuntergerutscht war.
Andere waren durchnässt, weil sie unter einem 40 Fuß hohen Eimer standen, der wie die US Brig Niagara aussieht und regelmäßig Wasser über die Menschen unter ihm ausschüttet.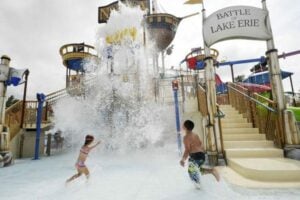 (Battle of Lake Erie, ProSlide RideHOUSE® 500)
Aber es ist fast unmöglich, sich in der Nähe der Attraktion aufzuhalten, ohne nass zu werden. Ständig schießen Wasserströme aus den vielen Laufwegen und interaktiven Spielen.
"Sie müssen bereit sein, nass zu werden," sagte Steve Gorman, der Präsident des Parks.
Paul Nelson, CEO des Familienunternehmens, bezeichnete die Attraktion als eine der größten Wasserspielanlagen ihrer Art.
Die Bauarbeiten an dem rund 2,5 Millionen Dollar teuren Wasserspiel begannen im Februar und wurden Anfang dieses Monats abgeschlossen.
Gorman sagte, dass die Konstruktion für eine breitere Zielgruppe entworfen wurde, als einige der Attraktionen des Parks, die speziell für Kinder bestimmt sind.
Die Battle of Lake Erie hat keine Höhenbegrenzung, obwohl drei der Rutschen für die Jüngeren gedacht sind. Dem neunjährigen Max Spaulding war das egal. Er war die zweite Person, die eine der größeren Rutschen hinunterrutschte.
"Es war ziemlich gut", sagte Max. "Und sie war viel länger, als ich dachte."
Nelson und Gorman denken bereits an die Zukunft. Die Bauarbeiten für eine neue Rutsche, die am anderen Ende des Wasserparks geplant ist, sollen im September beginnen.
Aber auch Nelson verbrachte am Freitag ein paar Minuten damit, die Architektur der neuen Attraktion zu bestaunen.
"Man muss nicht der Zweitbeste sein, nur weil man in Erie ist", sagte er.