Die ProSlide Technology Inc.®, der Branchenführer im Design und der Herstellung von Wasserbahnen, hat sich mit Wilderness Resorts and Waterparks zusammengetan, um den Soaky Mountain Waterpark zu eröffnen. Dieser ca. 20 Hektar (50 Acre) große, erstklassige Wasserpark in der Region Smoky Mountain in Tennessee verfügt über sechs speziell angefertigte ProSlide-Komplexe mit 17 leistungsstarken Wasserbahnen. Als größte eigenständige Installation des Jahres 2020 in den USA beherbergt der Soaky Mountain Waterpark die erste ProSlide KIDZ WAVE and Avalaunch – die weltweit erste RocketBLAST®-Wasserachterbahn mit vier FlyingSAUCER® und einem spektakulären TornadoWAVE®-Finish.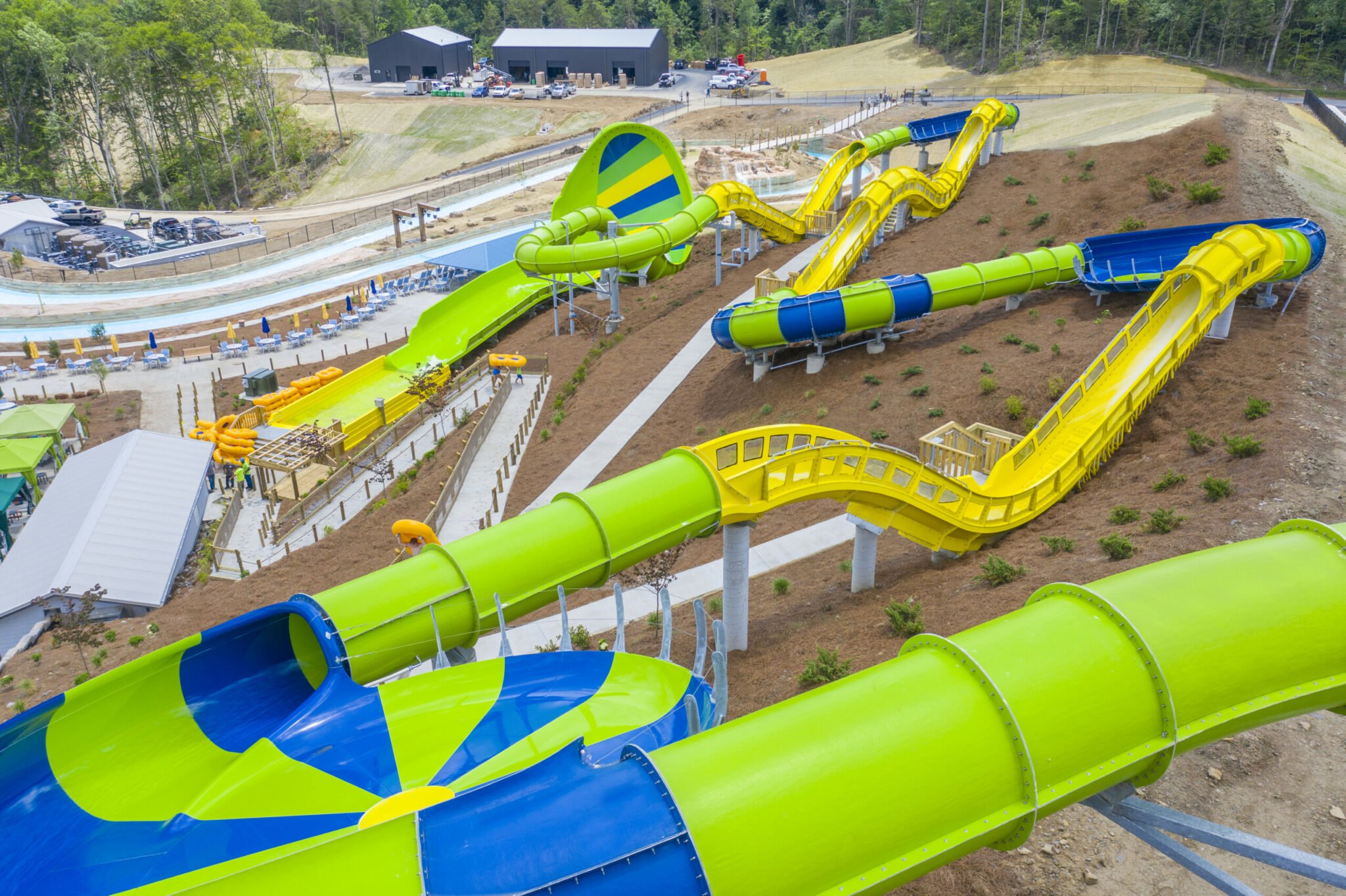 "Der Soaky Mountain Waterpark verfügt über die neueste zukunftsweisende Technologie in der Branche", sagt ProSlides Senior Vice-President of Strategic Accounts, Jeff Janovich. "Avalaunch zeigt zum ersten Mal, dass unsere RocketBLAST-Technologie der nächsten Generation mit unseren TornadoWAVE- und FlyingSAUCER-Funktionen kombiniert wurde. Es ist eine unglaubliche Bahn, von Anfang bis zum Ende! Hinzu kommen die erste KIDZ WAVE, der erste Triple FlyingSAUCER 45/MAMMOTH® auf US-amerikanischem Boden und die zweite Double TornadoWAVE. Soaky Mountain setzt einen neuen Maßstab für die Wasserparks und jeder Gast wird den besten ProSlide-Bahnenmix des Jahres 2020 erleben können. Es ist die nächste Generation von dem, was alle Best-in-Class-Wasserparks sein werden." Der Soaky Mountain Waterpark umfasst auch noch andere charakteristische ProSlide-Bahnen, wie z.B.:
Dueling PIPEline
PIPEline
TORNADO® 18
TurboTWISTER + SkyBOX®
FreeFALL
RallyRACER®
RideHOUSE®
Die einzigartige Lage in Sevierville, in der malerischen Region Smoky Mountain von Tennessee, ermöglichte es dem Team von ProSlide, die natürliche Topographie der Gegend zu nutzen, um einzigartige Bahnverläufe zu entwickeln. "Es hat viele Vorteile, an einem Berghang wie dem unseren zu bauen. Man kann die natürliche Höhe des Berges nutzen, um die Höhe des Rutschenturmes zu gestalten", sagt Joe Eck, COO von Wilderness Resorts and Waterparks. "Mit den einzigartigen Hängen des Geländes wussten wir, dass ProSlide in der Lage sein würde, etwas zu schaffen, das unsere kühnsten Erwartungen übertrifft und das man nur im Soaky Mountain Waterpark erleben kann."
Zum Bahndesign und den Wegen vieler Attraktionen im Soaky Mountain Waterpark passen auch die neuen innovativen Effekte während der Fahrt von ProSlide. "Da wir uns in den Bergen befinden, wollten wir das Fahrerlebnis verbessern und dabei die Natur so weit wie möglich nutzen", sagt Melissa Poirier, Creative Studio Manager von Proslide. "Also haben wir uns auf die Fülle des natürlichen Sonnenlichts verlassen und es in bestimmten Mustern in die Fiberglasrinnen eindringen lassen. Dieses gezielte Sonnenlicht erzeugt Effekte während der Fahrt, aus denen ein eindringliches Erlebnis für den Fahrer resultiert, das ihm das Gefühl höherer Geschwindigkeiten verleiht und für eine schillernde Augenweide sorgt."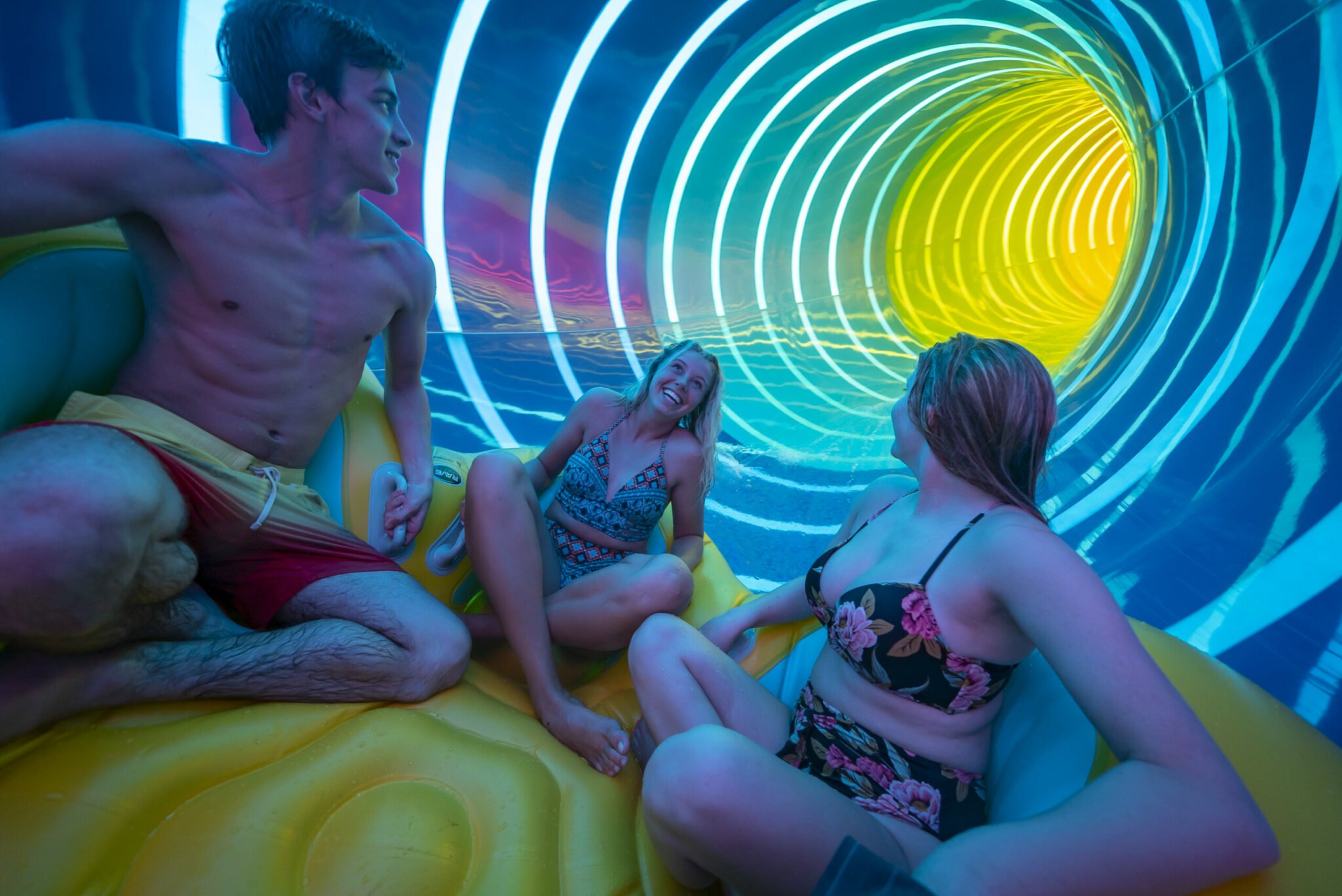 Der Soaky Mountain Waterpark ist das dritte Projekt, bei dem ProSlide und Wilderness Resorts and Waterparks zusammenarbeiten. Zuvor hatten sie bereits bei The Wilderness Resort in Wisconsin Dells und Wilderness at the Smokies in Sevierville zusammengearbeitet. Es wird erwartet, dass der Soaky Mountain Waterpark mehr als 400.000 Besucher pro Jahr anziehen wird und sich direkt gegenüber dem Wilderness at the Smokies befinden wird.
Über ProSlide
ProSlide ist weltweit führend in der Entwicklung und Herstellung von Wasserbahnen und liefert leistungsstarke Wasserattraktionen für neue und expandierende Wasserparks auf der ganzen Welt.
Seit über drei Jahrzehnten ist ProSlide führend in Innovation und Technologie von Wasserbahnen und hat über 100 Auszeichnungen und Anerkennungen erhalten. In den letzten 18 Jahren hat ProSlide 15 IAAPA-Auszeichnungen für die beste neue Wasserbahn gewonnen, fünfmal mehr als alle anderen Hersteller zusammen und wurde zum vierten Mal mit dem IAAPA IMPACT Award ausgezeichnet.
Unsere legendären Wasserbahnen boosten die besten Parks der Welt, darunter Disney, Six Flags, Premier Parks, SeaWorld, Universal, Parques Reunidos und viele mehr.
Für weitere Informationen kontaktieren Sie bitte ProSlide unter [email protected]