Real Estate developers around the world have turned to entertainment and leisure attractions to promote their new communities and drive sales of residential and commercial units. Theme parks and water parks have the potential to attract millions of visitors to destinations, increasing footfall to retail, dining, and entertainment developments, as well as increasing occupancy rates in hotels. These attractions are also seen as vital forms of entertainment and leisure for residents who have purchased properties and serve as differentiation from competing destination communities that lack these activities. Water parks, due to their lower overall development costs compared to theme parks, are attractive investments to developers in the early phases of creating new mixed-use destinations.
ProSlide has worked with numerous developers to create world class water parks as part of larger mixed-use developments. Let's explore ProSlide's recent collaboration with Sun Group in creating Aquatopia on Hon Thom Island, Vietnam.
Water parks create premier guest destinations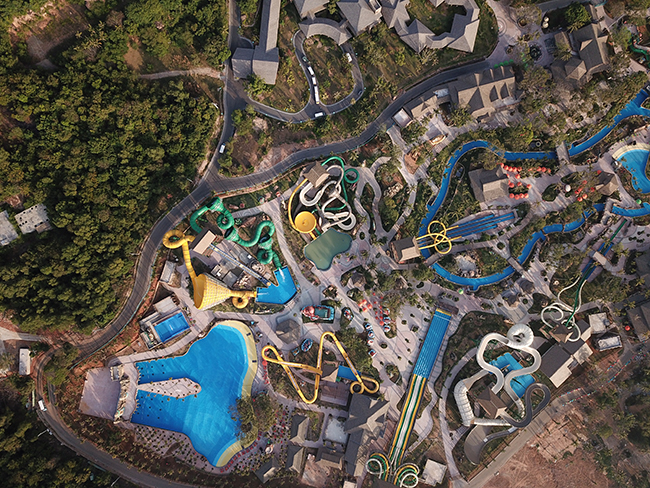 Real estate developers in Vietnam are increasingly turning to themed entertainment to differentiate and promote their new communities. As part of its residential, commercial and leisure development in Phu Quoc Island, Sun Group chose a water park, Aquatopia, as its feature attraction. By adding Aquatopia to its development, Sun Group has created a premier destination that drives hotel occupancy at its resorts, visits to its retail shops, and sales of its properties.
Focus on experiences to promote longer stays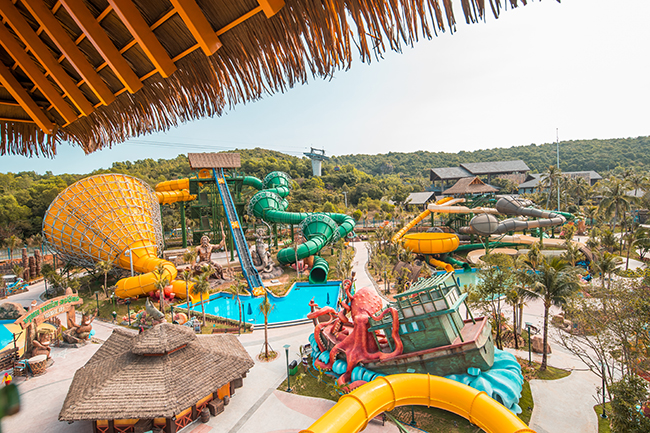 Aquatopia developed a unique storyline for their water park; filled with mythical creatures, mischievous animals, and fantastical landscapes, the story creates a uniquely immersive environment. Not only does this theme differentiate the water park and development, but it also creates a more memorable experience that keeps guests in the destination longer and wanting to return. As a result, guests are increasingly likely to spend more, not only in the water park but in the commercial and retail establishments as well.
Leverage iconic attractions to elevate your brand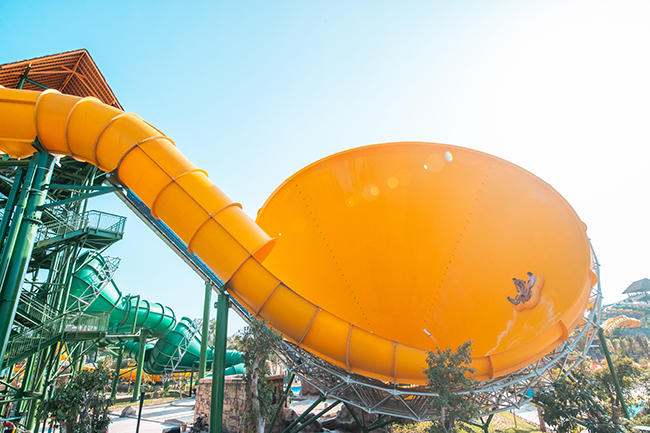 For both of its water parks in Vietnam (Aquatopia and Typhoon Water Park), Sun Group has added the most iconic attraction in the industry, the TORNADO 60, to represent their brand. This attraction is instantly recognizable with its towering stature – standing six stories high – and is used as the central feature of the marketing campaigns for both parks. Aptly named 'Poseidon's Revenge,' the TORNADO 60 at Aquatopia was custom designed and themed to create a one-of-a-kind experience, different from the over 100 other TORNADO 60s installed around the world.
OCT (7 TORNADOs), Six Flags (12 TORNADOs), and Wet 'n' Wild (7 TORNADOs) all utilize this iconic attraction to represent their brand as premier operators in the world of water parks.
Leave an unforgettable first impression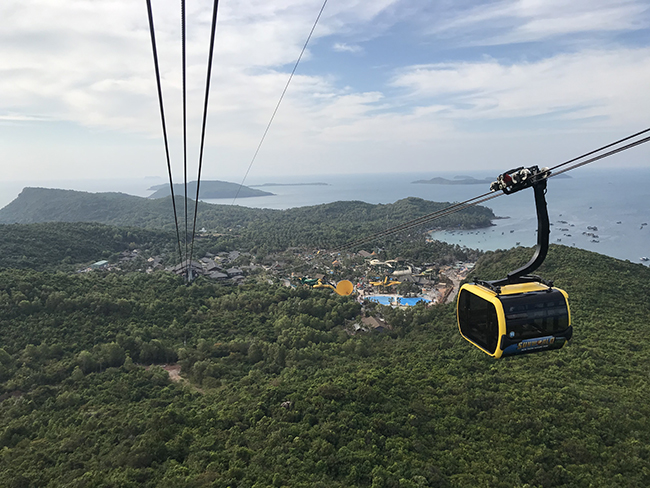 The arrival to Hon Thom Island via, a nearly 8km long, cable car over the ocean and tropical islands is an experience no one will forget. As guests arrive they're offered a panoramic view of the water park, creating excitement and anticipation for the experience to come. Dominating the view is ProSlide's iconic TORNADO 60, Aquatopia's signature attraction. The setting on the island, expansive views of the ocean all around, and the arrival via cable car makes Aquatopia's breathtaking oasis one of the most uniquely themed destinations in the world.
Engage an experienced water park consultant team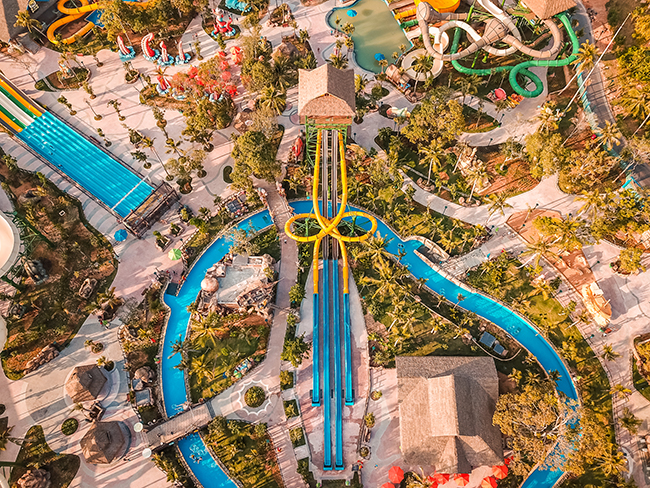 Sun Group leveraged the experience of Cloward H20, ITEC Entertainment, and ProSlide Technology Inc. to deliver Asia's Top Water Park (World Travel Awards 2020). This international team brought decades of experience in water park design, themed entertainment, aquatics engineering, and water ride design to create Aquatopia. The result is a world-class destination offering a premium guest experience, setting the standard for water parks in Vietnam and Southeast Asia.
Assemble your team
Putting together a strong team of experts is the first and most important step on the path to water park success. Contact ProSlide's team of water park experts today to help get your planning started.