Siam Park: Leading Edge Award 
This TripAdvisor® #1 rated park is continually pushing the limits of innovation and this summer released another world's first water coaster hybrid. Singha combines two new ProSlide® exclusive technologies in a single ride, a hybrid: FlyingSAUCER®/ RocketBLAST®. "Its constant acceleration, extreme curves and adrenaline-pumping drops will drive guests to our park for years," says Christoph Kiessling, Siam Park Managing Director.
Other guest favorites at Siam include icons like Dragon (a ProSlide® TORNADO® 60), Kinnaree (TORNADO® 24/ TornadoWAVE®), and Tower of Power (ProSlide® FreeFALL™) that drops through a shark tank.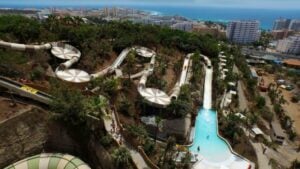 Singha, ProSlide®: FlyingSAUCER® / RocketBLAST®
Siam Park, Spain
Kalahari Resorts, Pocono Mountains: Leading Edge Award
"ProSlide® stands behind their work, unlike anyone else in the industry" says Todd Nelson, President, Kalahari Resorts. Which is why they've turned to ProSlide® for both phases of their new property in the Pocono Mountains. Phase one opened this summer with 12 rides and the newest generation RideHOUSE® 600.
The four-flume ProSlide® custom complex includes the world's first indoor TornadoWAVE®, a ProBOWL™, a Hybrid: TORNADO® 24/ TORNADO® 24/ TORNADO® 24, and a TWISTER™ body slide.
Positioning the complex in a corner of the park will enable the park to easily accommodate their planned expansion in 2017: the wall will be removed and new rides will be added to the existing tower. The second phase of the park will include another 10+ attractions, making it the largest Kalahari water park.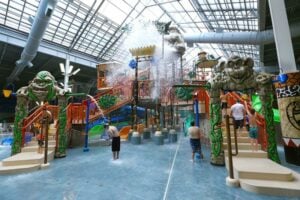 Splashdown Safari, ProSlide® RideHOUSE® 600
Kalahari Resort Pocono Mountains, USA
Everland Caribbean Bay: Board Award
This world-class water park, Asia-Pacific's third largest, attracted 1.5M visitors in 2014. This summer they turned to ProSlide® for its highest capacity, anchor water attraction. The result: Mega Storm. It's a 6-person hybrid: HydroMAGNETIC® MAMMOTH®/ TORNADO® 60, the 2013 winner of IAAPA's Best New Water Park Ride.
The project was such a success that the park stayed open an extra month — with just Mega Storm and their lazy river operating – to help satisfy the demand!
Mega Storm, ProSlide® HydroMAGNETIC® MAMMOTH® / TORNADO® 60
Everland Caribbean Bay, South Korea
And lastly, special congratulations to Andreas Tanzer, our Director of Research & Design, and the co-chair of the ASTM safety committee. His contributions were also recognized by the WWA with a second Kelly Ogle Memorial Safety Award. Andreas is a tireless advocate for water ride safety and a main architect of the ASTM standards for our industry. Congratulations!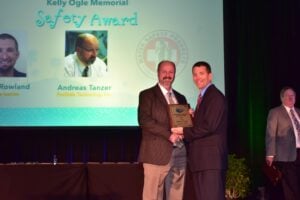 To learn more about water rides that could put your park on the winners list, please get in touch. Or book a one-on-one meeting with us at a key industry event this Fall. We'll be in Gothenburg, Sweden for IAAPA Euro Attractions (EAS), Booth #B902, Palm Springs for World Waterpark Association's WWA, Booth #601 and Orlando for IAAPA Attractions Show (IAAPA), Booth #5139.