We are thrilled to announce a momentous achievement – the receipt of the prestigious IAAPA Brass Ring Award in the category of Best New Water Park Ride. Our groundbreaking creation, Saifa – Dueling RocketBLAST Water Coaster, has been recognized as the epitome of innovation and excellence in the realm of water park attractions.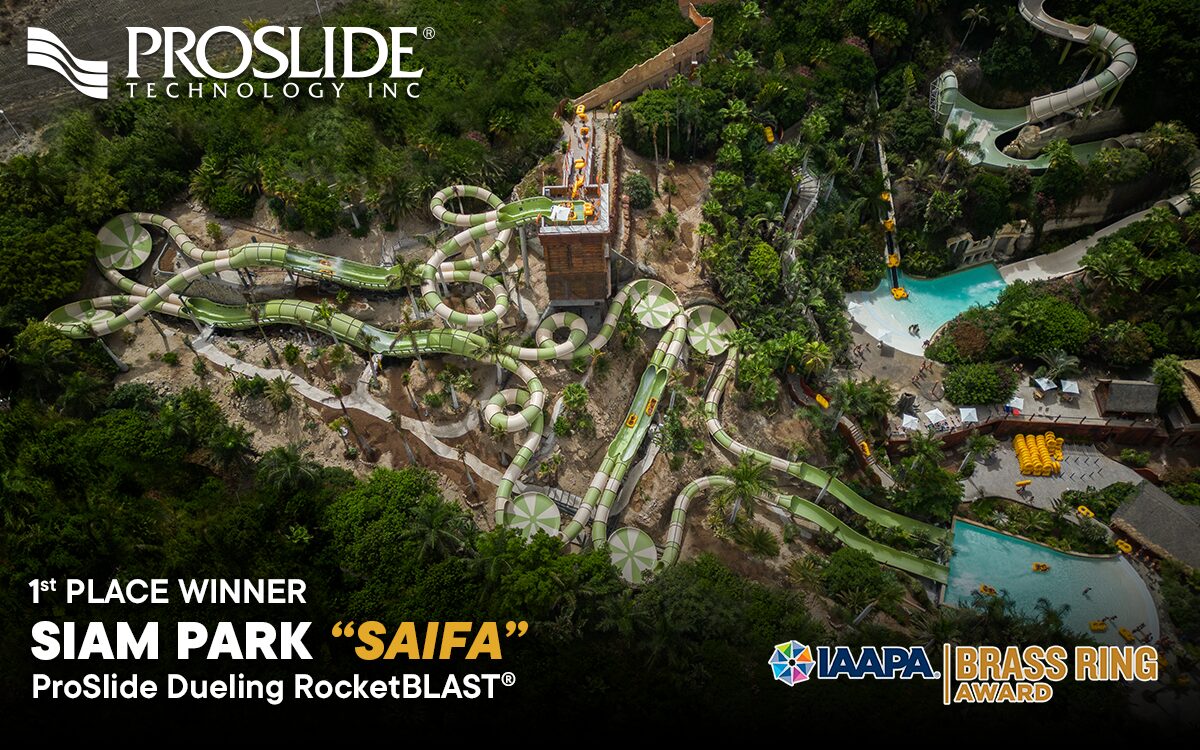 This esteemed award is a resounding testament to ProSlide's unwavering dedication and hard work in the dynamic field of water ride design and manufacturing. We are profoundly grateful to the IAAPA (International Association of Amusement Parks and Attractions) for this recognition, which reinforces our commitment to pushing the boundaries of creativity in the industry.
We extend our sincere appreciation to everyone who has contributed to the success of Saifa and we share this remarkable achievement with the incredible team at Siam Water Park, our esteemed partner in this endeavor. Their collaboration and passion for delivering exceptional experiences have played a pivotal role in bringing this innovative water ride to life.
Siam Water Park's commitment to excellence aligns seamlessly with ProSlide's vision, and together we have created a water park attraction that not only thrills but sets a new standard for excitement and innovation. This collaboration has been instrumental in shaping Saifa into the award-winning sensation it is today.
As we celebrate this milestone, we renew our commitment to continue pushing the boundaries of what is possible in water ride design. The IAAPA Brass Ring Award serves as motivation to uphold our standards of excellence and innovation, inspiring us to create even more thrilling and unforgettable experiences for water park enthusiasts around the globe.
Thank you to everyone who has been part of our journey and has recognized our dedication to setting new benchmarks in the industry. We look forward to continuing to redefine the future of water park entertainment and delivering unparalleled excitement to audiences worldwide.
About SAIFA Water Park
Siam Park is a renowned water park in Tenerife, Spain, featuring Thai-inspired architecture and a variety of attractions such as water slides, wave pools, and a large artificial beach. Notable rides include the Tower of Power, Signa and the Wave Palace. The park caters to visitors of all ages and has received numerous awards for its innovative design and thrilling rides.
About ProSlide Technology Inc
ProSlide Technology Inc. stands as the global leader in the design and manufacturing of water rides. With a rich history spanning over 37 years, ProSlide consistently revolutionizes the industry by introducing groundbreaking innovations and delivering unparalleled water ride experiences. Renowned for their quality, performance, and unwavering commitment to customer satisfaction, ProSlide is the trusted partner of water parks around the world.