ProSlide Technology Inc., the global water ride industry leader is dedicated to relentless innovation and authentic water ride attractions. Since 1986, they have focused on high performance water rides with timeless designs that are engineered for life. ProSlide is honored to be recognized by IAAPA, for the 4th time, with the industry IMPACT AWARD for Dueling PipelineBLAST™/FlyingSAUCER® Water Coaster.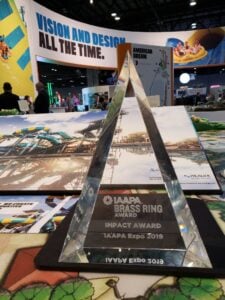 The IMPACT AWARD is presented to a winner of one of the Best New Products (categories 1-10) within the Best New Product or Service Awards that had or will have the most impact on the attractions industry for years to come. This new Water Coaster featured at Splashway Waterpark & Campground will do exactly that.
"We are honored to receive this year's IAAPA IMPACT AWARD and our 4th since 2003," says Rick Hunter, Chairman and CEO. "Passion for ride design and innovation is in our DNA and we're committed to transforming water parks with high-performance, authentic water rides. To work with Splashway Waterpark & Campground on this incredible new Water Coaster and will continue to vision the next generation of great water rides in the Water Coaster category."
Dueling PipelineBLAST™/FlyingSAUCER® Water Coaster:
This water ride intensifies speed racing competition and takes it to the next heart pounding level with over 52 ride path variations:
High energy and high capacity dual start tubs prepare racers in a bobsled-style racing start fueling the excitement — feel the electricity!
Intoxicating adrenaline rush at every RallyPOINT™ as racers face off side-by-side in the heat of competition
High speed inclines powered by RocketBLAST® jet propulsion for a heart-pounding photo finish
Engineered G-force power precision at every FlyingSAUCER® open curve
Second to none lane switching and dynamic race track innovation that is capable of driving extremely high throughput
About ProSlide
ProSlide is the global leader in water ride design and manufacturing, supplying high-performance water attractions to new and expanding water parks around the world.
For over three decades, ProSlide has led the market in water ride innovation and technology with over 100 awards and recognitions, winning 15 IAAPA Best New Water Ride awards in the last 18 years, 5 times more than all other manufacturers combined and 4th time recipient of the IAAPA IMPACT Award.
About IAAPA Expo 2019
IAAPA Expo is the premier conference and trade show for the global attractions industry, including amusement and theme parks, where visitors spend $45.2 billion around the world. IAAPA Expo 2019 will draw more than 38,000 industry professionals, including more than 24,000 decisions-makers and buyers from more than 100 countries to the Orange County Convention Center in Orlando, Florida, Monday, Nov. 18 through Friday, Nov. 22. The 585,000-net-square-foot trade show floor will be open Tuesday, Nov. 19, through Friday, Nov. 22. Additional information is available at www.IAAPA.org/IAAPAExpo. #IAAPAExpo
For more information about Splashway Waterpark & campground please visit splashway.com or contact ProSlide at [email protected]