ProSlide Technology Inc.®, le leader de l'industrie dans la conception et la fabrication de toboggans aquatiques, s'est associé avec Wilderness Resorts and Waterparks, pour ouvrir le parc aquatique de Soaky Mountain. Ce parc aquatique extérieur d'une vingtaine d'hectares, le meilleur de sa catégorie dans la région de Smoky Mountain au Tennessee, possède six complexes ProSlide personnalisés et 17 toboggans aquatiques très performants. Le parc aquatique de Soaky Mountain, la plus grande installation autonome des États-Unis en 2020, abrite les premières installations ProSlide KIDZ WAVE et Avalaunch, la première montagne russe aquatique RocketBLAST® au monde avec quatre FlyingSAUCER® et le spectaculaire TornadoWAVE® en guise de clou du spectacle.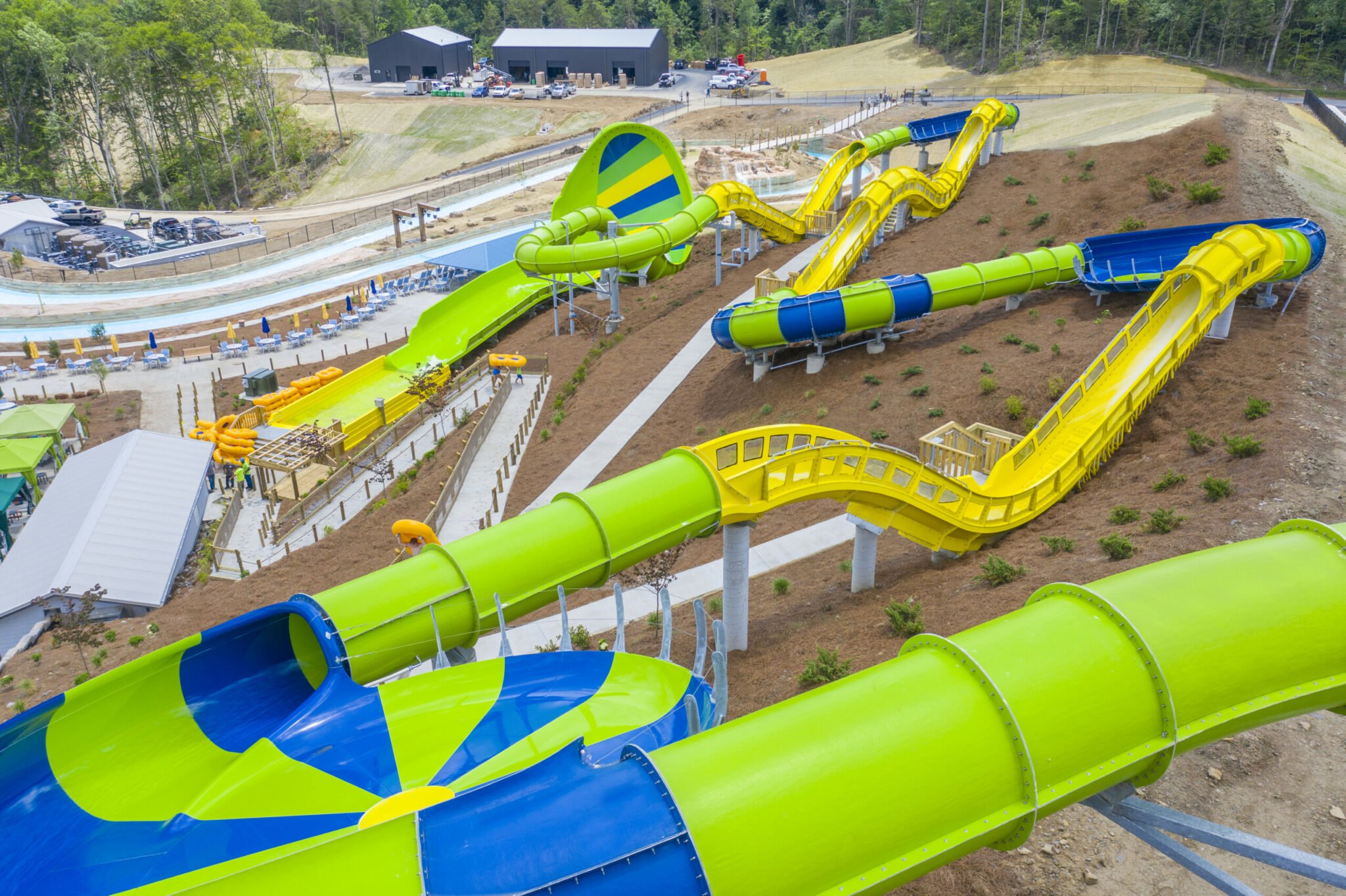 « Le parc aquatique de Soaky Mountain dispose de la technologie de pointe la plus récente actuellement dans le secteur », déclare Jeff Janovich, vice-président principal des comptes stratégiques de ProSlide. « Grâce à Avalaunch, c'est la première fois que notre technologie RocketBLAST de dernier cri est combinée avec les fonctionnalités des TornadoWAVE et FlyingSAUCER. C'est un voyage incroyable du début à la fin ! À cela s'ajoutent le premier KIDZ WAVE, le premier Triple FlyingSAUCER 45/MAMMOTH® sur le sol américain, et le deuxième Double TornadoWAVE. Soaky Mountain place la barre plus haut en matière de parcs aquatiques et chaque visiteur pourra découvrir la meilleure combinaison de toboggans ProSlide de 2020. Il s'agit de la future génération de comment seront tous les meilleurs parcs aquatiques de leur catégorie ». Le parc aquatique Soaky Mountain inclut également d'autres toboggans aquatiques ProSlide tels que :
Dueling PIPEline
PIPEline
TORNADO® 18
TurboTWISTER + SkyBOX®
FreeFALL
RallyRACER®
RideHOUSE®
Situé à Sevierville, dans la région pittoresque de Smoky Mountain au Tennessee, cet emplacement unique a permis à l'équipe de développeurs de toboggans de ProSlide d'exploiter la topographie naturelle de la région pour développer des chemins uniques en leur genre. « Il y a beaucoup d'avantages à construire sur un flanc de montagne comme le nôtre. Vous pouvez utiliser l'élévation naturelle de la montagne pour ajuster la hauteur de votre tour de toboggan », explique Joe Eck, directeur général de Wilderness Resorts and Waterparks. « Grâce aux pentes uniques du site, nous savions que ProSlide serait en mesure de créer quelque chose qui dépasserait nos attentes les plus folles et que les visiteurs ne pourraient vivre qu'au parc aquatique de Soaky Mountain. »
Les nouveaux effets de glisse innovants de ProSlide complètent la conception des toboggans et des sentiers de nombreuses attractions du parc aquatique de Soaky Mountain. « Nous voulions profiter du fait d'être en montagne pour améliorer l'expérience de descente tout en utilisant la nature autant que possible », explique Melissa Poirier, responsable du studio de création de ProSlide. « Nous nous sommes donc appuyés sur l'abondance de la lumière naturelle du soleil et lui avons permis d'imprégner les toboggans en fibre de verre selon des schémas spécifiques. Cette lumière solaire ciblée donne un effet de descente, ce qui permet d'obtenir une expérience immersive pour l'utilisateur qui ressent une vitesse accrue et profite d'un vrai spectacle pour les yeux. "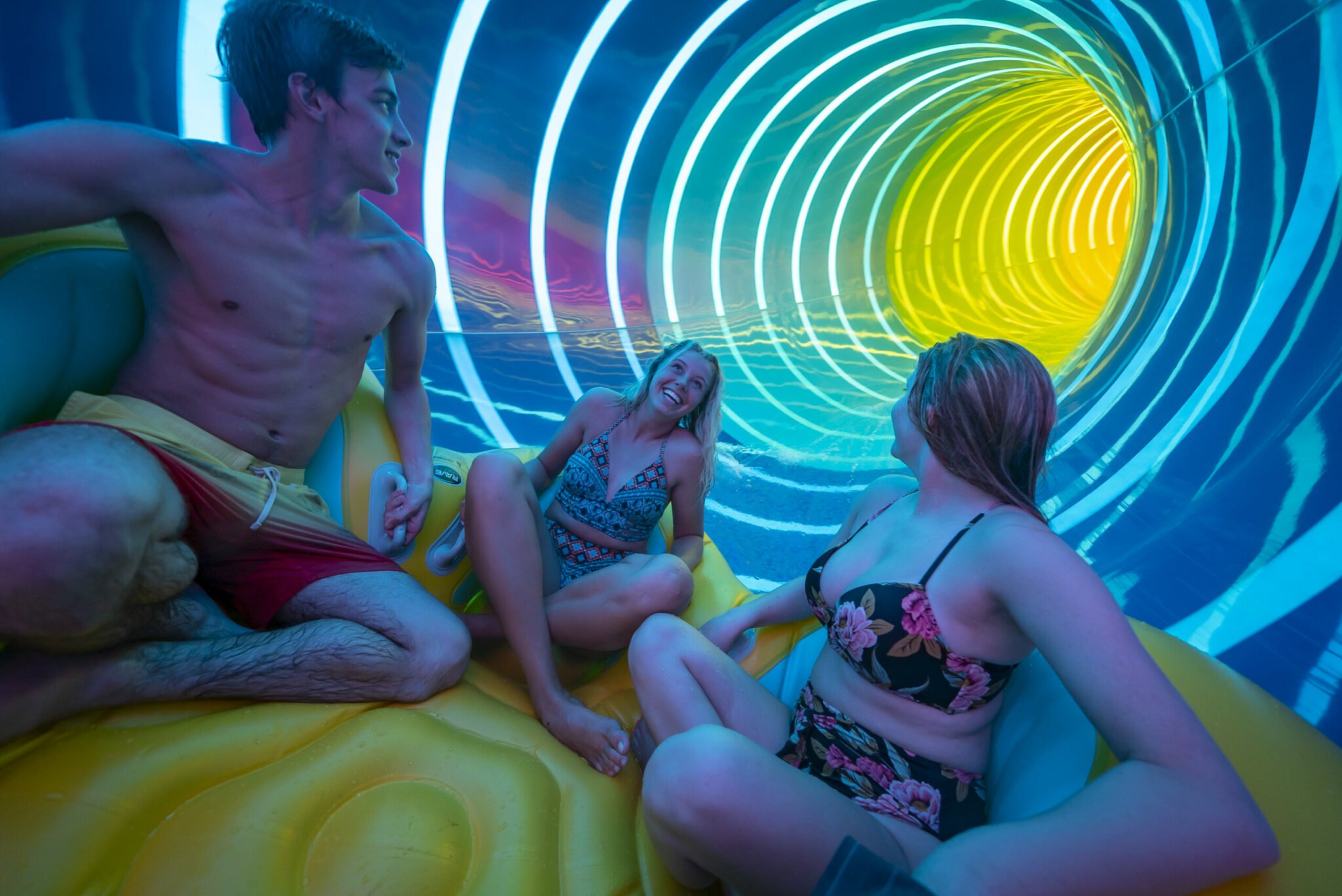 Le Soaky Mountain Waterpark est le troisième projet sur lequel ProSlide et Wilderness Resorts and Waterparks ont travaillé ensemble, après s'être précédemment associés pour The Wilderness Resort à Wisconsin Dells et Wilderness at the Smokies à Sevierville. Le parc aquatique Soaky Mountain espère recevoir plus de 400 000 visiteurs par an dans la région et sera situé en face de Wilderness at the Smokies.
À propos de ProSlide
ProSlide est leader mondial dans la conception et la fabrication de toboggans aquatiques. Il fournit des attractions aquatiques de haute performance aux nouveaux parcs aquatiques et aux parcs en expansion dans le monde entier.
Depuis plus de trois décennies, ProSlide est à la tête du marché concernant l'innovation et la technologie dans le domaine des toboggans aquatiques avec plus de 100 prix et récompenses, emportant 15 prix IAAPA au Meilleur Toboggan Aquatique au cours des 18 dernières années, soit 5 fois plus que tous les autres fabricants réunis, et 4 fois le prix IAAPA IMPACT.
Vous retrouverez nos toboggans aquatiques dans les parcs aquatiques les plus emblématiques au monde, comme par exemple Disney, Six Flags, Premier Parks, SeaWorld, Universal, Parques Reunidos et bien d'autres encore.
Pour de plus amples informations, veuillez contacter ProSlide en écrivant à [email protected]