Story courtesy of Blooloop (January, 28, 2016)
The 46-acre waterpark on the island of Tenerife is something of a phenomenon. Winner of the 2015 Tripadvisor Traveller's Choice Award for 'Best Waterpark in the World', it is proof that Kiessling's commitment to sustainability and his passion for ground-breaking attractions is a winning combination.
Christoph Kiessling spoke to Blooloop about his environmental principles and how his meticulous approach has ensured that there is something for everyone at Siam Park.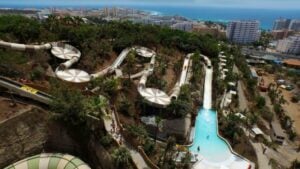 (Singha: 2015 IAAPA first place Best New Water Ride, ProSlide hybrid: RocketBLAST® / FlyingSAUCER®)
A theme park with water attractions
Construction began at Siam Park in 2004 at a cost of €52 million. It was originally built as a sister attraction to the family-owned zoo, Loro Parque, opened by Kiessling's father in 1972 as a paradise for parrots. Loro Parque has since evolved into one of the biggest attractions in the Canary Islands, and a centre of ecological excellence.
"I worked from '95 until 2000 with my father, then did another experience outside the family company with my own company, then joined my father back in 2002 to develop Siam Park," explains Kiessling. "We spent from 2002 to 2004 working on ideas. First of all I travelled, visiting about 75 water-parks around the world."
Carrying out meticulous research is characteristic of Kiessling's approach to all aspects of his work and undoubtedly a key factor in the park's success.
"We wanted to be attractive across the biggest potential possible market," he says. "A theme park with water attractions would cover the requirements of people happy to enjoy a first-class service, a beautiful and relaxing environment and security, and on the other side, would also provide entertainment, thrills, new sensations and different emotions, which we can create specially at a water park."
Understanding the visitor demographic
A thorough understanding of the visitor demographic is reflected in the park's provision for its clientele. Over four million tourists visit Tenerife annually. In summer the age of the average visitor is 38, and in winter it is in the region of 48.
Taking all this into consideration and having visited water parks for inspiration, the Kiesslings began designing and constructing Siam Park, a process that took four years.
Themed on the ancient kingdom of Siam, a name formerly given by outsiders to Thailand, it boasts a Thai floating market and the world's largest collection of authentic Thai buildings outside Asia. Kiessling was given permission by the Thai royal family to use the park's name and theme, and the park was opened by the Princess of Thailand.
The park has won numerous awards, most recently Spain's prestigious Plaque for Merit in Tourism (Kiessling receives the award above centre).
It also holds 7 world records, including the world's largest dragon statue, an eight metre increased elevation within the lazy river, the world's largest man-made wave which reaches heights of up to 3.3 metres, the greatest diversity in slides, the world's largest Thai building outside Asia and the world's first green water-park.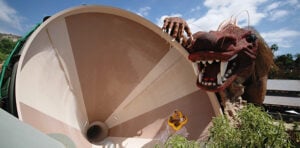 (Dragon, ProSlide® TORNADO® 60)
The theming in particular makes it feel more akin to a theme park than a waterpark and this could be one of the reasons it has such broad appeal.
"We are attractive to everybody," agrees Kiessling. "Those who want to have a relaxing time can hang out at the white sandy beach, or swim in the lazy river, and have a beautiful day without forcing the heart into an adrenaline-pumping situation. But, those who are looking for those situations, they are more than welcome."
Siam Park certainly caters for thrill-seekers. The park attracts more than 850,000 visitors a year, many eager to experience the best of what Kiessling calls "controlled extreme sensation".
Ramping up the thrill factor with ProSlide®
He has worked with waterslide experts, ProSlide® from the very beginning and describes the company's President and CEO, Rick Hunter, as "…like a godfather, inspired with and helping to develop our project." And "he taught me about water slides. So together we developed Phase 1, and we did Kinnaree in 2012 (a four-person 200-metre long slide) together: I asked him, can you do this and that, and he said – 'sure, and we can do this and that as well', and together we created a new attraction." ProSlide and Kiessling designed all the park's rides – there are more than sixteen – customising them according to the unique landscape, shaping the layout, drops and turns to the gradients of the natural terrain.
The park is built on a hill, allowing the slides to follow the park's landscape in a way that is reminiscent of terrain roller coasters, so they lack the prominent support structure present in most water slides.
The Singha water coaster – mean and green
The park's newest ride is the Singha Experience – a water-propelled toboggan ride in a three-person raft. A hybrid of ProSlide's® RocketBLAST® and FlyingSAUCER® rides, the water coaster reaches a speed of 6m per second with a drop of 18m per second, a speed unprecedented in water park attractions. The track is 240m long, with high-speed curves and 14 changes of direction.
It is Kiessling's response to all the people who had come to him extolling the uphill propulsion system at Wild Wadi in Dubai and scooped the 2015 IAAPA Award for Best New Water Ride – Hybrid.
"Since the advent of internet and videos on YouTube, and people being able to travel for very little money all over the world, we are on a platform of competitors. Everybody knows about everybody, and we are compared with all the other installations," he says. "So I flew to Dubai, I checked on the system, I went to other parks and saw the system, but it was not really what I was looking for. So I talked to the industry and asked, who can help me to develop something which is faster, which has more action, and consumes less energy than the existing systems. So now we have a system which does triple the speed, without the energy. And this is the mathematics I love to apply in our park."
With Singha, a new benchmark has been created – a high-speed uphill thrill ride which is, comparatively speaking, ecologically sound.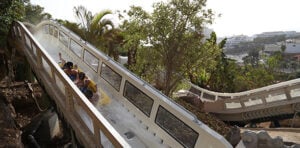 (Singha: ProSlide® hybrid: RocketBLAST® / FlyingSAUCER®)
"Siam Park is a pure gravity park. I love nature. I love the force of gravity: we don't need propulsion systems to make a slide an exciting and attractive thrill slide. Knowing that, I was happy that none of the rides in my park were high electricity consumers." Siam Park's green credentials were a given from the outset – a continuation of the Kiessling family's approach to their first attraction, Loro Parque.
A commitment to sustainability
"We come from a zoological garden," says Kiessling. "The mother company is a zoo: Loro Parque (above). We are, therefore, both responsible and environmentally aware. As a zoo, we have all types of certification, and were the first Biosphere Park in the world to have obtained the Biosphere Park certificate: Animal Embassy, awarded by the Responsible Tourism Institute, linked to UNESCO."
Kiessling describes Siam Park as "the first air-conditioned outdoor aquatic park in the world". The park has the first natural gas plant in the Canary Islands and, to conserve the island's water, a desalination plant on site, which desalinates 700 cubic meters of sea water per day. After the water is used in the rides, the park recycles the water by using it to water the plants. "Everything we do is always in reduction of energy consumption. We do our own composting of organic material; we use sustainable materials throughout the park – we use everything from ecologically friendly soap to ecologically green fertilizer. We never buy standard products: we always buy the greener alternative."
The Tower of Power
Siam Park is home to the biggest open-air shark tank in Europe, which features in the spectacular plummet ride, Tower of Power. The slide drops for 28m before passing through an 18m long transparent acrylic tube which passes through the shark tank.
Animal welfare is a priority and the sharks swim in filtered seawater.
"This water is absolutely ecological because it's fresh from the sea and we don't need to use chemical substitutes, we are not creating salt water, we are just using sea water – we filter it, we supply it to the shark and we keep it clean.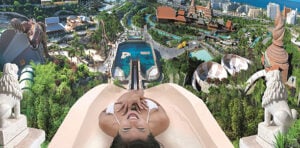 (Tower or Power, ProSlide® FreeFALL™)
"Then we have a part of the desalination unit which also offers all types of waters for our pools, and for the showers, and so on. We recycle water and use it for the irrigation of the whole park.
"And then we have a solar plant of 2.75 megawatts solar energy.
"We are trying to do everything which is possible to be a sustainable, self-sufficient park. The energy we consume we want to create."
The high standards Kiessling has set for the environmentally-friendly aspects of the park are echoed in all its various attractions.
"Our demand for quality is the highest you can expect. We want to have the best food. We want everybody who spends one coin at our park to be happy they have spent it. We want that person to be smiling when they spend their money because they know and are confident that the product we deliver for that money will exceed their expectations."
He cites the park's variety as key to its appeal and also as something that sets it apart from other waterparks.
"We invite all of our visitors to create their own special day at our park – a movie where each of them is the star. You want an action movie? You go for action. You want a love story? Take your time. There's an environment and there's a setting for everybody.
"So, having quality, having attractions whose impact is not on the environment but comes from living them, like this we create something that is slightly different from the experience people expect."
The appeal of the setting itself can't be underestimated. "You look from the park through the vegetation and beautiful Thai architecture, and you have the Atlantic Ocean, and other islands on the horizon. The environment is beautiful. And then we have 155,000 hotel beds surrounding the park, that's why I don't need to do a hotel at the park."
Poema del Mar Aquarium
Kiessling is already turning his attention to other projects. Future plans include an aquarium, Poema del Mar (Poem of the Sea), already under construction in Las Palmas on Gran Canaria. It will have a footprint of 8,500m and is scheduled to open in June 2017.
"It will feature the second biggest viewing window in the world. Ocean Kingdom in China has the biggest, at 38m wide. Ours is 36m, but our window is curved, while the China window is straight. Ours will give the sensation of being submerged inside that exhibit: a unique impact."
The other major project in the pipeline is a second Siam Park in Grand Canaria, opening at some point in around 2019. Repeating the waterpark's success is clearly a no-brainer. Kiessling: "We are setting new benchmarks within water attractions, creating – together with ProSlide® – new, inspiring, wonderful, sensational rides, and we offer these to our clients and they love them."
A note from our team:
ProSlide® has been so fortunate to have a hand in developing the world's most impactful water attractions. Let us know how we can help bring out the best in your facility!
North American projects: Mike Smith
European projects: Lars Lenders
Australia/ LATAM: Phil Hayles
Chinese projects: Yongneng Li
South East Asia: Nik Paas
Korean projects: Ray Kwon
Middle East, Africa, India: Philip Baker