Covered by five patents, these ProSlide® inventions launched at Six Flags Fiesta Texas as the RocketBLAST® LTG (Low-to-Grade)/FlyingSAUCER® hybrid, branded 'Thunder Rapids' by the park.
So what makes the RocketBLAST® LTG/FlyingSAUCER® hybrid revolutionary?
A completely new coaster. The RocketBLAST® takes water propulsion coasters to a new level:
100% steeper hills than traditional 'blaster' coasters.
100% more capacity: 4-person boats mean more riding, less waiting, and more fun together!
60% more efficient: turbine technology delivers maximum boost at lower cost.
Advanced control systems, sensors and zone blocking further optimize operations, just like the world's most expensive roller coasters.
A completely new shape. The FlyingSAUCER® features deliver high speeds & high thrills. This new, massive shape is steeply angled to create a 'drop-and-dive' sensation, much like a World Cup giant slalom ski race.
A completely new profile. Low-to-Grade (LTG) means more options, lower cost, and differentiated coaster performance with a total drop equal to the tallest speed slides, unheard of before ProSlide®!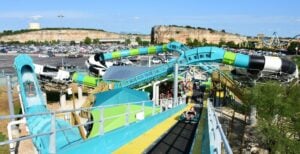 (Thunder Rapids, ProSlide® RocketBLAST® LTG/FlyingSAUCER®)
The newest-generation water propulsion coasters
Old-style propulsion coasters rely on just one nozzle at the base of each hill to move boats forward. The disadvantages are well-known: no sustained power, always-on water and lower capacities.
The new ProSlide® RocketBLAST® delivers sustained power, sensor-controlled water jets, higher capacities and a smooth, fast ride. But how?
Distributing the power. The patented ProSlide® RocketBLAST® design positions custom water jets all the way up each coaster hill. The jets apply consistent, constant force to both sides of the boats, allowing them to speed up hills that are 100% steeper. The result: the most thrilling water propulsion coaster in the world.
Boats with patented 'accelerators.' A channel on the side of each boat maximizes the water flow. Cup-shaped pockets ('intakes') work like a turbine, using the water's dynamic energy to deliver 100% more capacity than old-style 'blaster' technology.
Even more efficiencies. Sophisticated control systems and sensors save water and energy, making the ride 60% more efficient than old-style 'blaster' coasters. Zone blocking technology means multiple boats can be in the ride at the same time, further increasing capacities.
(Thunder Rapids, ProSlide® RocketBLAST® LTG/FlyingSAUCER®)
Massive saucer features
The unique saucer shape of the ProSlide® FlyingSAUCER® – and its steep angles – creates a completely new water ride experience, with acceleration through the curves and maximum Gs at the apex.
Most water rides have you in an enclosed flume going around corners and turns and dips, looking straight ahead; with the FlyingSAUCER® you come out of the flume onto the saucer and suddenly you can see where you're going. That adds anticipation, excitement, and loads of laughter. It's a whole new experience: rather than looking straight ahead, riders are compelled to look around the corner at where they are heading, "racing the ride."
Low-to-Grade = High Performance
Traditional water coasters have been largely gravity rides: starting on higher topography and making their way down through a series of drops and semi-powered rises. The RocketBLAST® LTG can be installed in a perfectly flat environment, much like a traditional rollercoaster, delivering:
Dramatically lower material costs – lower tower, ride supports and evacuation platforms mean less steel, engineering, and construction
Far fewer installation restrictions – with no topography requirements, the RocketBLAST® LTG can be installed anywhere…including indoors!
Maximum entertainment value, with Thunder Rapids offering:

ground-level entry
an anticipation-building ride-up
4 FlyingSAUCER® turns
5 uphill BLAST sections
350 feet of tunnels
more than 100 feet of total cumulative vertical drop
942 feet total distance (the world's largest RocketBLAST® Water Coaster)