ProSlide, the global leader in water ride manufacturing and design, announced the debut of the world's first Dueling RocketBLAST® / FlyingSAUCER® 20 hybrid water coaster at Splashway Waterpark & Campground in Sheridan, Texas.
"Splashway are proven innovators, this is their third major ride expansion in 4 years and we are excited to have their guests experience the new technology and innovation incorporated in this ride. Splashway is a true family water park run by a great team and this opportunity arose when we were creating something really special and Splashway was looking to raise the bar again" says Ray Smegal, ProSlide Chief Commercial Officer.
Named Dueling Splash Blasters, this premiere attraction is the third ProSlide installation in three years.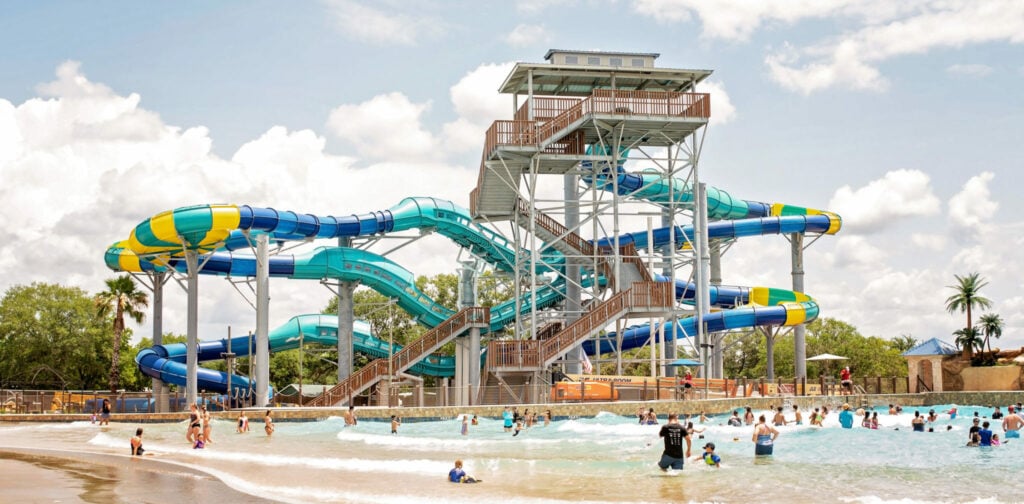 "This new ride really is our best water coaster," says Smegal. "We've combined competitive racing elements, patented jet propulsion technology and award-winning saucer design to engineer something that is truly the best of the best."
Riders race through tight turns powered by ProSlide-exclusive BLAST® jet propulsion technology before sweeping around award-winning FlyingSAUCER® features for an intense "drop and dive" sensation.
Throughout the race, exciting new RallyPOINT™ dueling technology – open low-separator walls that allow riders to see and hear their competitors – keeps the intensity high and the adrenaline pumping.

Splashway is a family-owned water park and campground featuring a wide range of entertainment and lodging designed for families. Their brand-new Dueling Splash Blasters hosts the most FlyingSAUCER® features ever on a single water ride, completely redefining the water coaster experience.
"The team over at Splashway understands the value of innovation. Dueling Splash Blasters is unlike anything the industry has ever seen and we're proud to be a part of it," says Rick Hunter, ProSlide Chairman and CEO.
About ProSlide
ProSlide has been the industry leader in water park manufacturing, design and planning. For over three decades, our cutting-edge attractions have powered the world's most recognized and successful water parks, including Great Wolf Lodge, Six Flags, Universal and many more.
Since 1986, ProSlide has invented nearly every industry innovation, and has won more awards than all of the other water ride manufacturers combined.
The company is based in Ottawa, Canada, with additional representation located in Shanghai, China, Seoul, South Korea, Denver, Colorado, Madrid, Spain and Amsterdam, the Netherlands.
For more information about Splashway Waterpark & campground please visit splashway.com or contact ProSlide at [email protected]