Story courtesy of GoErie.com (July 29th, 2017)
No one hesitated to rush into the Battle of Lake Erie on breezy Friday afternoon.
Plenty came away as shivering soldiers, but it is safe to say that the 3 p.m. opening of Waldameer Park & Water World's new water attraction, named after the famous War of 1812 struggle, was a victory — especially for park-goers who had no idea they'd be among the first to experience it.
"It's absolutely great," said 39-year-old Wayne Christ, who had brought his two daughters and his wife up from Pittsburgh for a day of fun. He was soaked after having gone down one of the attraction's seven slides.
Others were drenched because they'd stood under a 40-foot-high bucket that is designed to look like the U.S. Brig Niagara, that periodically dumps water on people below.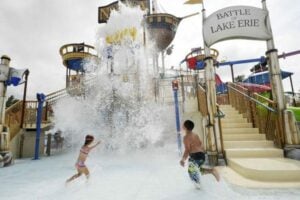 (Battle of Lake Erie, ProSlide RideHOUSE® 500)
But it is almost impossible to be anywhere near the attraction without getting wet. Streams of water are constantly being shot from its many walkways and interactive games.
"You've got to be ready to get wet," said Steve Gorman, the park's president.
Paul Nelson, CEO of the family-owned business, said the attraction is one of the largest water play structures of its kind.
Construction on the roughly $2.5 million water feature began in February and was completed earlier this month.
Gorman said the structure was designed to reach a broader demographic than some of the park's kid-oriented attractions.
The Battle of Lake Erie has no height limits, although three of its slides are meant for younger people. Nine-year-old Max Spaulding didn't care. He was the second person to go down one of the larger slides.
"It was pretty good," Spaulding said. "It was a lot longer than I thought it'd be."
Nelson and Gorman are already thinking about the future. Construction on a new slide planned for the other end of the water park is scheduled to begin in September.
But Nelson spent a few minutes on Friday marveling at the new attraction's architecture.
"You don't have to be second best just because you're in Erie," he said.