About
Located at Walt Disney World Resort in Orlando, Florida, The Walt Disney Company owns and operates two of the most famous and successful water parks in the world: Disney's Typhoon Lagoon and Disney's Blizzard Beach. The parks have long been among the most popular water parks with guests globally, holding the titles of second and third most visited water parks in the world, respectively.
Relationship
ProSlide began working with Disney in 1988, when the company was looking to enter the water park industry with Typhoon Lagoon. ProSlide was the only company that could make Disney's vision a reality and supplied most of the water rides, if not all the iconic water rides for the park. Based on that park's incredible success, in 1994 ProSlide and Disney teamed up once again to built Blizzard Beach – an all-ProSlide high-entertainment water park. More than 30 years later, Disney and ProSlide continue to enjoy a strong, collaborative relationship.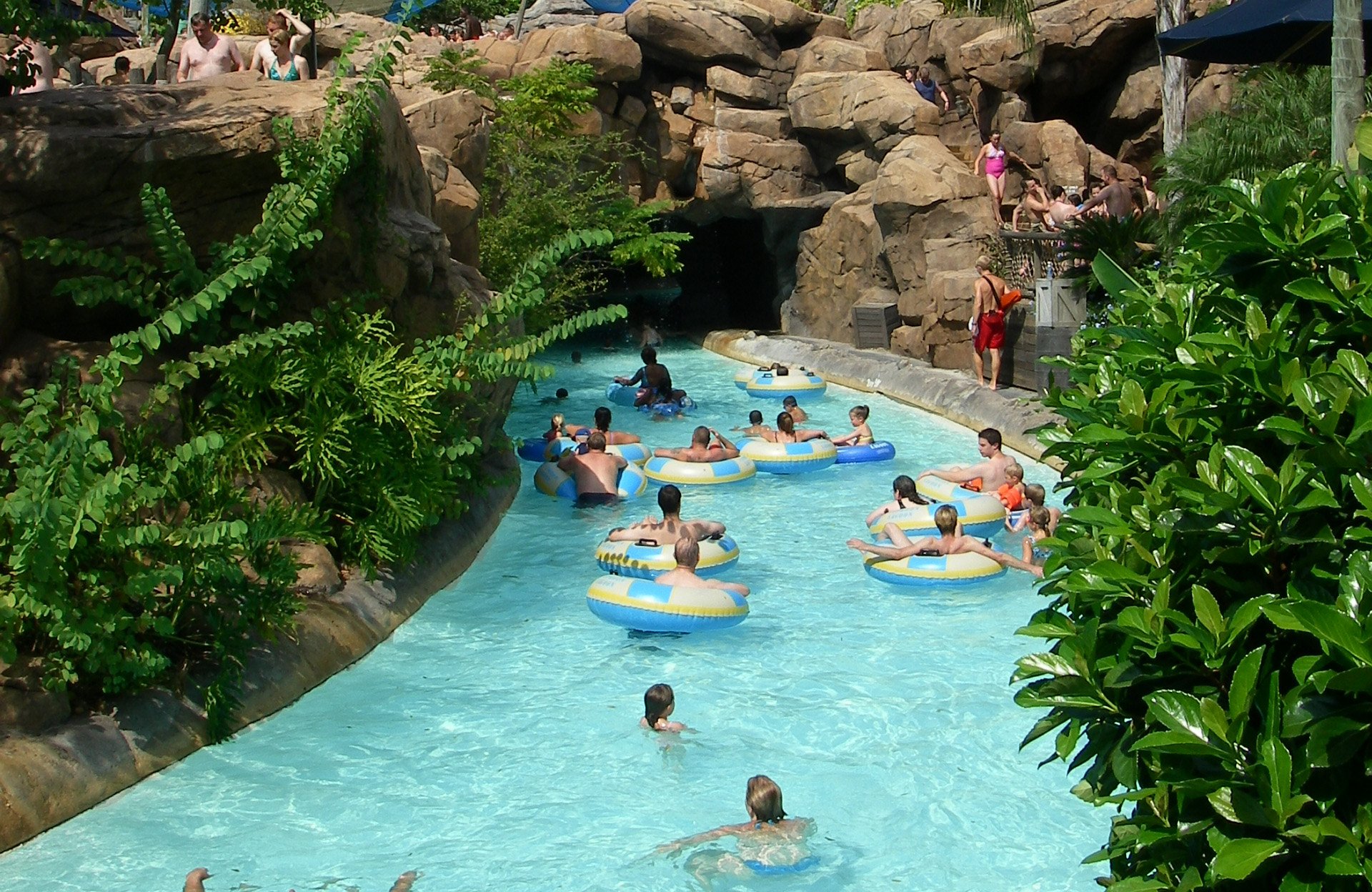 Proven Industry
The water park industry was in its infancy, less than 15 years old, when Disney opened Typhoon Lagoon. Disney was the first in the industry to merge high-performance water rides with a fully themed, world-class water park. This was a formula that proved to be an incredible success and a model that influenced water parks for decades to come. Based on that winning combination, Typhoon Lagoon has consistently ranked as one of the most visited water parks in the world since its opening.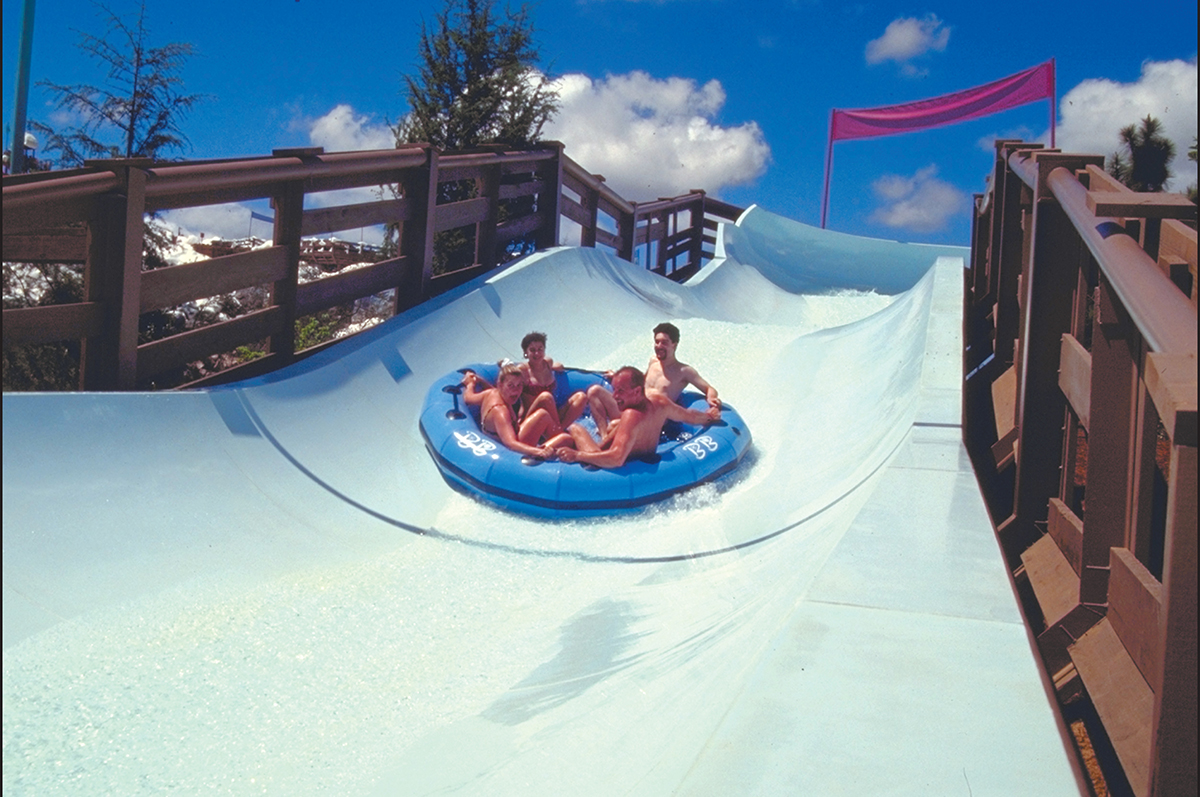 ProSlide Water Rides
The rides that were installed when the two parks opened continue to thrill and draw guests in from around the world – a testament to how visionary their design and technology was at the time. Rides like Typhoon Lagoon's Giant TWISTER and FreeFALL have been drawing riders to the shipwreck-themed park since 1989. While Blizzard Beach's high-speed TurboPIPEline, legendary MAMMOTH, and competitive ProRACER drew inspiration from ProSlide's skiing heritage to complement the park's "melting" ski resort theme perfectly.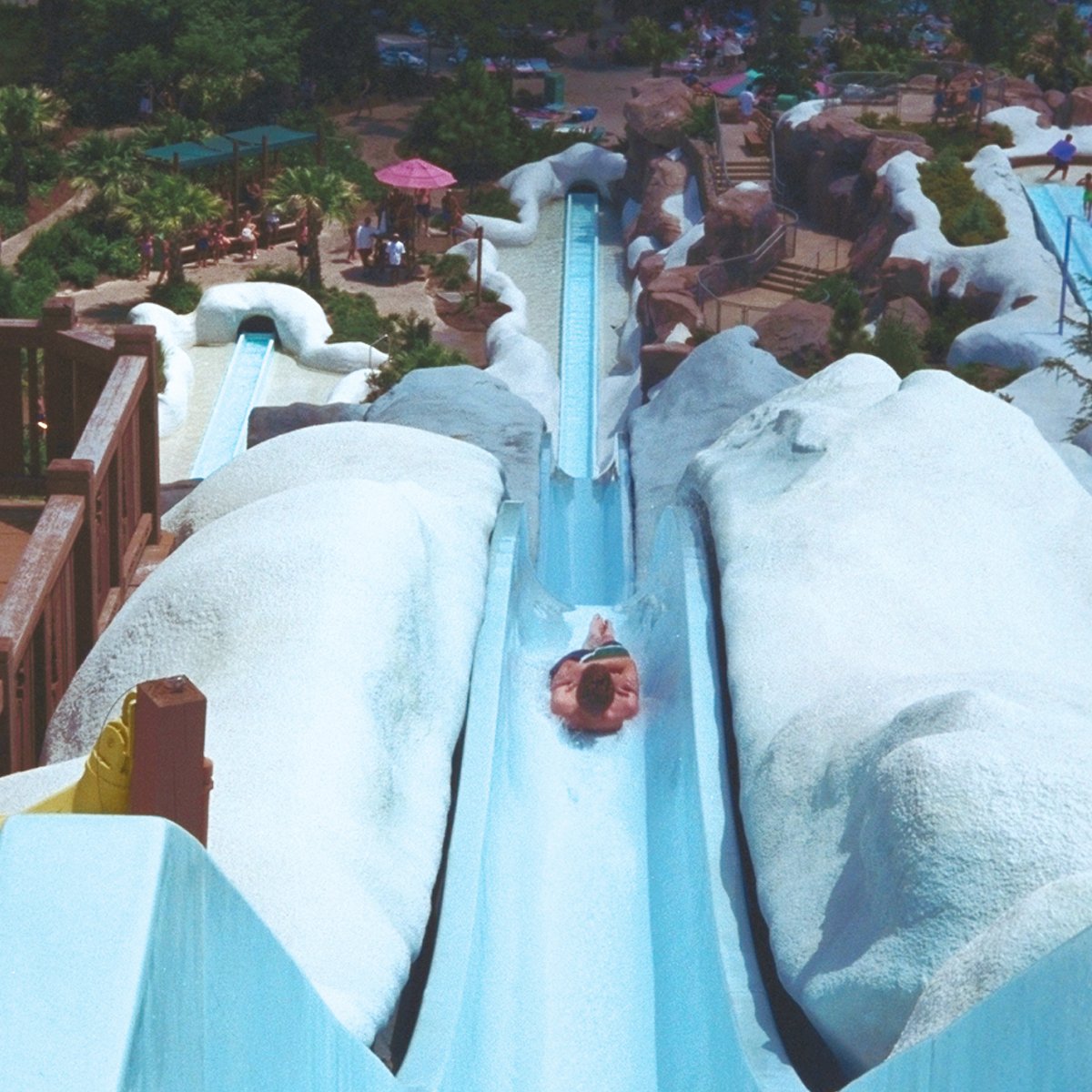 First of its kind
In 2017, Disney and ProSlide collaborated once again to bring a new, never-experienced family adventure ride to Typhoon Lagoon: the PowerRIVER. With a ride-up conveyor, no requirement for towers, and the ability for five people to ride together, the PowerRIVER was an instant hit with Disney's audiences that were able share the experience and take in the immersive theming with their friends and family members. Named 'Miss Adventure Falls', the PowerRIVER was themed as a shipwreck site with cargo and oceanography equipment scattered throughout. Guests board onto 'treasure rafts' as they explore the wreckage and discover lost treasure along the path, creating an immersive journey from beginning to end.
8 Signature ProSlide Rides at Typhoon Lagoon
GIANT TWISTER – 3: Stern Buner | Jib Jammer | Rudder Buster
Freefall – 2: Humunga Kowabunga x2
PowerRIVER (MammothRIVER) – 1: Miss Adventure Falls
TurboTWISTER – 1: Humunga Kowabunga
KIDZ ProRACER – 1
13 Signature ProSlide Rides at Blizzard Beach
GIANT TWISTER – 1: Snow Stormers
ProRACER – 1: Toboggan Racers
MultiBUMP – 1: Slush Gusher
TWISTER – 1: Snow Stormers
FreeFALL – 1: Summit Plummet
MAMMOTH – 1: Teamboat Springs
PIPEline – 1: Runoff Rapids
TurboPIPEline – 1: Downhill Double Dipper
KIDZ PIPEline – 3: Snow Stormers
KIDZ TWISTER – 1
KIDZ ProRACER – 1