ProSlide Technology Inc.®, a líder no setor de design e fabricação de atrações aquáticas, fez parceria com o Wilderness Resorts & Waterparks para abrir o Soaky Mountain Waterpark. Um parque aquático ao ar livre de 20 hectares, o melhor da categoria, na região de Smoky Mountain, Tennessee, este parque tem seis complexos ProSlide personalizados, completos com 17 atrações aquáticas de alto desempenho. Como a maior instalação autônoma dos EUA em 2020, o Soaky Mountain Waterpark abriga o primeiro ProSlide KIDZ WAVE e Avalaunch, a primeira montanha-russa aquática RocketBLAST® do mundo com quatro FlyingSAUCER®s e um TornadoWAVE® espetacular.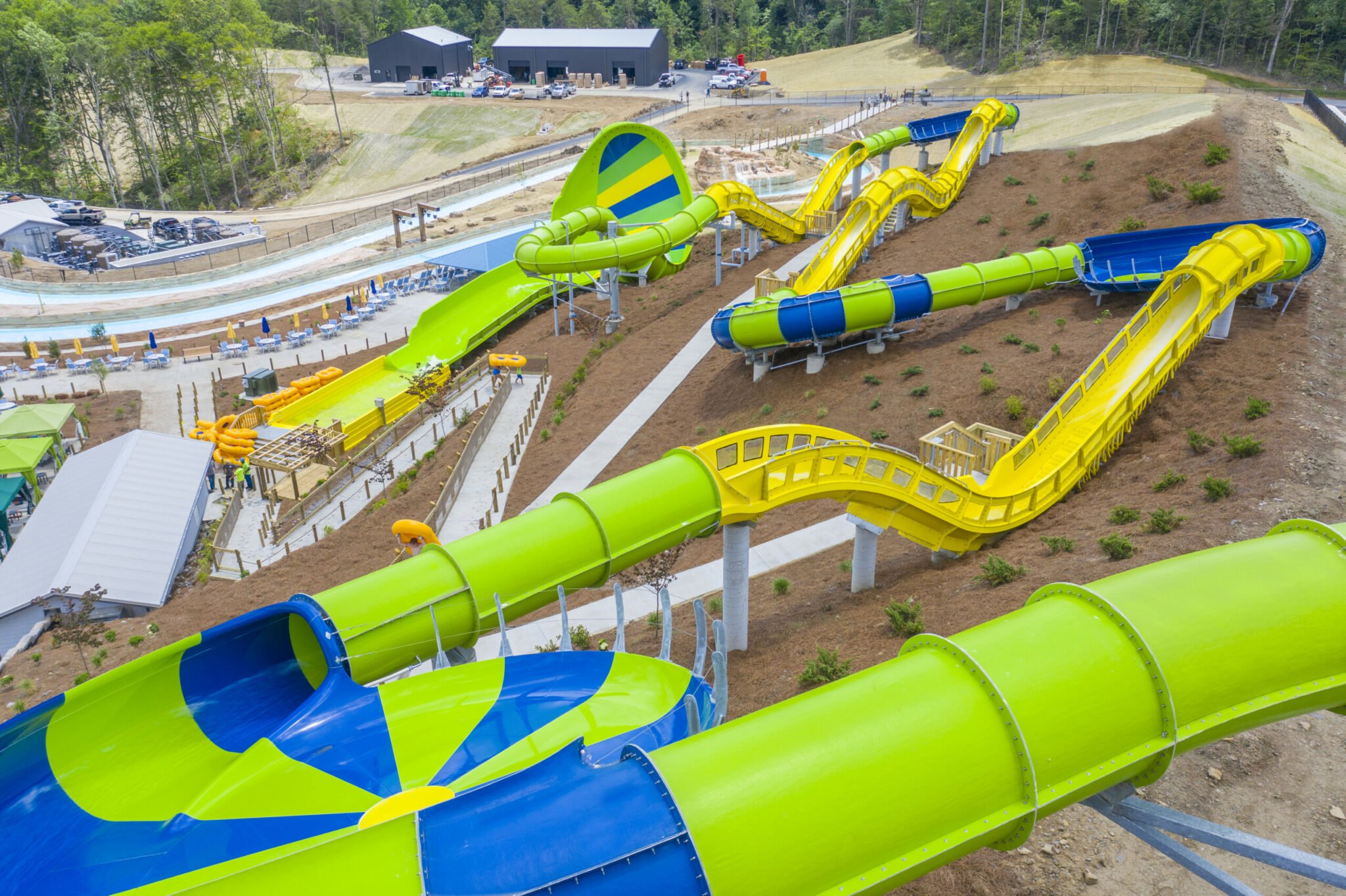 "O parque aquático Soaky Mountain tem a mais nova tecnologia com visão de futuro do setor atualmente", disse o Vice-Presidente Sênior de Contas Estratégicas da ProSlide, Jeff Janovich. "Avalaunch marca a primeira vez que nossa tecnologia RocketBLAST de última geração é combinada com nossos TornadoWAVE e FlyingSAUCER. É uma atração incrível do início ao fim! Somado a isso está o primeiro KIDZ WAVE, o primeiro Triple FlyingSAUCER 45/MAMMOTH® nos EUA e o segundo Double TornadoWAVE. Soaky Mountain está definindo o novo padrão de parques aquáticos e todos os visitantes terão a oportunidade de experimentar a melhor combinação de atrações ProSlide de 2020.  É a próxima geração do que todos os melhores parques aquáticos serão." O Parque Aquático Soaky Mountain também inclui várias outras atrações ProSlide exclusivas, como:
Dueling PIPEline
PIPEline
TORNADO® 18
TurboTWISTER + SkyBOX®
FreeFALL
RallyRACER®
RideHOUSE®
Localizado em Sevierville, na região cênica de Smoky Mountain do Tennessee, a localização única permitiu que a equipe de projetistas da ProSlide aproveitasse a topografia natural da área para desenvolver percursos exclusivos para atrações. "Há muitos benefícios em construir em uma montanha-russa como a nossa. Você pode usar a elevação natural da montanha para criar a altura da torre", diz o Diretor de Operações da Wilderness Resorts & Waterparks, Joe Eck. "Com a geografia exclusiva do local, sabíamos que a ProSlide conseguiria criar algo que superasse nossas expectativas mais extravagantes, que só podem ser vividas no Soaky Mountain Waterpark."
Os novos efeitos inovadores da ProSlide complementam o design da atração e os trajetos em muitas das atrações do Soaky Mountain Waterpark. "Estando nas montanhas, queríamos aprimorar a experiência das atrações aproveitando a natureza", diz Melissa Poirier, Gerente de Estúdio Criativo da ProSlide. "Portanto, contamos com a abundância de luz solar natural e permitimos que ela permeasse os tubos de fibra de vidro com padrões específicos. A luz do sol direcionada cria efeitos na atração, resultando em uma experiência envolvente para o participante, dando a sensação de velocidades elevadas com uma viagem deslumbrante para os olhos."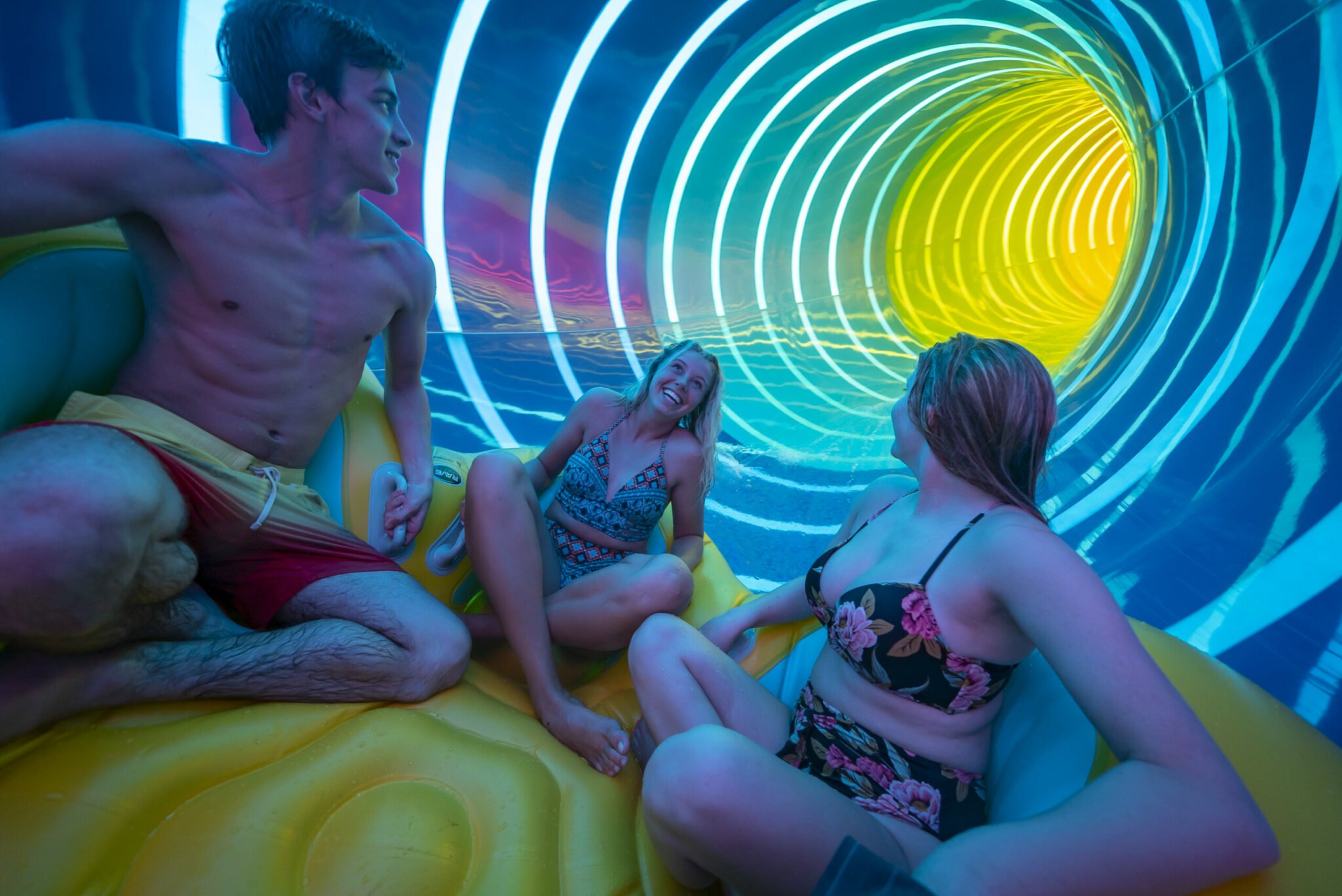 O Soaky Mountain Waterpark marca o terceiro projeto no qual a ProSlide e o Wilderness Resorts & Waterparks trabalharam juntos, somando-se às parcerias para o The Wilderness Resort, em Wisconsin Dells, e Wilderness at the Smokies, em Sevierville. O Parque Aquático Soaky Mountain deve atrair mais de 400.000 visitantes para a região por ano e estará localizado em frente ao Wilderness at the Smokies.
Sobre a ProSlideA ProSlide é líder global em projeto e fabricação de atrações aquáticas, fornecendo produtos com alto desempenho para parques aquáticos novos e em crescimento do mundo todo.
Há mais de três décadas a ProSlide lidera o mercado de inovação e tecnologia de atrações aquáticas, com mais de 100 prêmios e reconhecimentos, ganhando 15 prêmios como Melhor Nova Atração Aquática da IAAPA nos últimos 18 anos, cinco vezes mais do que todos os outros fabricantes juntos, e 4 prêmios IMPACT da IAAPA.
Nossas atrações aquáticas famosas abastecem os melhores parques do mundo, incluindo Disney, Six Flags, Premier Parks, SeaWorld, Universal, Parques Reunidos e muitos outros.
Para saber mais, entre em contato com a ProSlide pelo e-mail [email protected]