For the first time in its 30-year history, ProSlide® launches two world-first technologies together in a single ProSlide® hybrid ride: FlyingSAUCER®/RocketBLAST®. It was introduced at Siam Park, Tenerife, Spain in early July and is branded 'Singha' by the park.
"Our guests love speed and are looking for revolutionary rides", says Christoph Kiessling, Managing Director, Siam Park. "That's Singha. Its constant acceleration, extreme curves and adrenaline-pumping drops will drive guests to our park for years."
It's a ride that will further solidify Siam's Trip Advisor rating as the number one water park in the world!
New water coaster technology. The hybrid ride's RocketBLAST® coaster takes water propulsion to a whole new level by marrying technology from ProSlide® LIM coasters with turbine technology:
100% steeper hills than traditional 'blaster' coasters: with rows of water jets on every climb
50% more capacity: patented channels on the boats maximize every drop of water
60% more efficient: control systems, sensors and zone-blocking optimize operations
A completely new shape. Massive FlyingSAUCER® features deliver high speeds & high thrills. This new shape is steeply angled to create the constant acceleration and 'drop-and-dive' sensations, much like a Formula One car race turn! Read more and see the FlyingSAUCER® ride video here.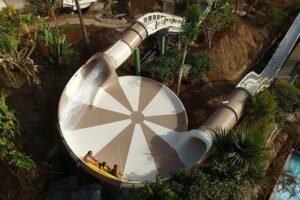 FlyingSAUCER® feature: high-banked curves & maximum centrifugal force.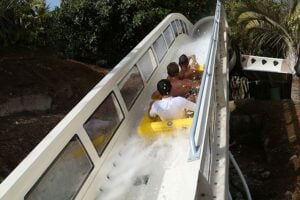 RocketBLAST® technology: patented water jets & boat design.