Next generation water park featuring the most innovative ProSlide rides
Water parks are synonymous with summer – enjoying hot days with friends and family. Guests are looking for an escape and to enjoy water-based recreation because it provides a relief to the heat, while also creating a memorable, shared experience. So, its fitting that Wilderness Resorts and Waterparks opened Soaky Mountain Waterpark in late June, a cutting-edge water park showcasing the latest and greatest in ProSlide water ride technology. Located in Sevierville, Tennessee –– Soaky Mountain is a 50-acre, best-in-class water park that is located right across the street from its sister resort, Wilderness at the Smokies. Soaky Mountain Waterpark marks the third project that ProSlide and Wilderness Resorts and Waterparks have worked on together, having previously partnered for The Wilderness Resort in Wisconsin Dells and Wilderness at the Smokies.
Double TornadoWAVE®/FlyingSAUCER 45®
Innovation setting new water park standards
Having worked together on two other parks over a span of 20+ years, Wilderness Resorts and Waterparks and ProSlide had the benefit of knowing what each other can accomplish. With that knowledge, both companies set out to make Soaky Mountain an innovative, next-generation water park that set a new standard in the industry. What sets Soaky Mountain apart from others? First and foremost, Soaky Mountain is an all-ProSlide water park. With the client's vision cemented, ProSlide worked hand-in-hand with Wilderness Resorts and Waterparks to make that vision a reality by developing the best ride mix of 2020 – including landmark rides like the first KIDZ WAVE, the first Triple FlyingSAUCER 45/MAMMOTH on U.S. soil, and the second Double TornadoWAVE.
Soaky Mountain's attractions will also include several other signature ProSlide Rides, such as:
Dueling PIPEline ™
PIPEline ™
TORNADO® 18
TurboTWISTER + SkyBOX®
FreeFALL ™
RallyRACER®
RideHOUSE®
World's most innovative Water Coaster Complex
One of the standout attractions at Soaky Mountain is Avalaunch Watercoaster, a high-performing water coaster with a never-before-seen combination of dynamic features. Powered by ProSlide's next-generation RocketBLAST propulsion, the riders experience Avalaunch's four high-speed FlyingSAUCER turns, mimicking the feeling of a giant slalom ski race, before finishing off with a drop into the iconic 60-foot TornadoWAVE.
The Avalaunch Watercoaster isn't the only marquee water ride that will be drawing crowds from far and wide. Rainbow's Revenge adds triple FlyingSAUCER 45's to the MAMMOTH, ProSlide's original family raft water ride and the best-selling group rafting ride in the world. Already a purposefully designed ride with distinct turns and accelerators, the addition of three FlyingSAUCERs an extra thrilling dimension.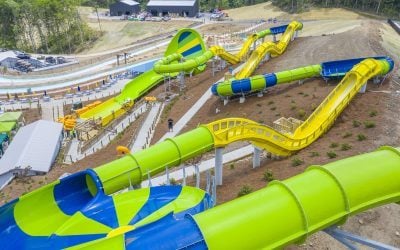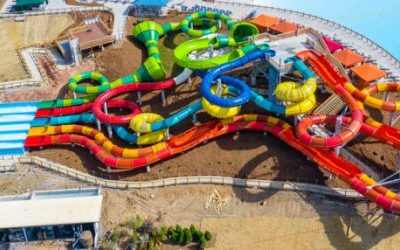 Custom in-ride visual effects
Complementing the ride design and paths on many of the attractions at Soaky Mountain Waterpark – including Rainbow's Revenge – are ProSlide's new innovative in-ride effects. Being in the mountains and surrounded by nature, ProSlide sought to enhance the ride experience while using nature as much as possible. The effects relied on the park's abundance of natural sunlight, which was able to permeate the fiberglass flumes in purposefully designed patterns. This targeted sunlight creates the in-ride effects, resulting in an immersive experience for the rider that gives the feeling of heightened speeds, increased motion, and a dazzling feast for the eyes.  
Proslide: transforming the best water parks in the world
ProSlide's one-of-a-kind ride mixes and transformational technology are game-changers and continue to establish new water parks around the world as best-in-class. Soaky Mountain's combination of future-forward ride designs and technology, with resplendent in-ride effects solidifies its position in the next generation of water parks. 
Copyright © 2020 ProSlide Technology Inc. All rights reserved. All content and design concepts herein are the exclusive property of or used under license by ProSlide Technology Inc.®, or its subsidiaries ("ProSlide®"), and may be subject to patent, trademark and/or copyright protection. The materials may not be copied, compiled, distributed or re-distributed without the prior knowledge and written consent of ProSlide.. Unauthorized use, release or duplication of any of the information contained herein may result in liability.