LAUNCHED DUELING ROCKETBLAST/FLYINGSAUCER WATER COASTER
A NEW LEVEL OF RACING EXCITEMENT IS UNLEASHED AT HOLIDAY WORLD
Holiday World & Splashin' Safari is one of America's leading theme parks and water parks, located in Santa Claus, Indiana. Home to two of the world's best wooden roller coasters, Raven and Voyage, and the latest Bolliger & Mabillard LSM (Linear Synchronous Motors) steel coaster, Thunderbird, Holiday World has been a family friendly entertainment destination for over 70 years. Originally comprised of a singular theme park, in 1993 Holiday World expanded their offerings to include a water park that would become an industry-leader, Splashin' Safari.
Holiday World's Splashin' Safari water park features nearly every one of ProSlide world's best water rides, including the TORNADO 60, BehemothBOWL 60, 10-Lane ProRACER, two MammothRIVERs, and two WaterKINGDOM children's zones. Anchoring the water park are three award winning and record-setting ProSlide Water Coasters. Holiday World's commitment to delivering exceptional guest experiences and family fun has earned them global accolades with multiple Golden Ticket Awards.
HOLIDAY WORLD: THE WORLD'S CAPITAL OF WATER COASTERS
A LEGACY OF AWARD-WINNING INNOVATION
ProSlide Water Coasters anchor the world's best water parks including Universal's Volcano Bay, Atlantis Aquaventure Dubai and Sanya, SeaWorld, Six Flags, Great Wolf Lodge, Everland Caribbean Bay, and Siam Park. ProSlide Water Coasters are powerful, performance-driven attractions that push the boundaries of what water rides are capable of accomplishing. Holiday World stays at the head of the pack with three ProSlide Water Coasters, making them the Water Coaster Capital of the World!
Holiday World's first ProSlide Water Coaster is Wildebeest (2010), a LIM-powered HydroMAGNETIC ROCKET and 10-time Golden Ticket Award winner for Best Water Ride (2010-2020). Their second ProSlide Water Coaster is MAMMOTH (2012), a LIM-powered HydroMAGNETIC MAMMOTH that holds the title of 'World's Longest Water Coaster'. Their third and newest ProSlide Water Coaster is the Launched Dueling RocketBLAST/FlyingSAUCER Water Coaster, Cheetah Chase (2020). Poised to be the most awarded water ride in 2020, Cheetah Chase is already record setting and delivers incredible entertainment value for guests at Holiday World.
The world's first horizontal launch start is the centerpiece of the Launched Dueling RocketBLAST/FlyingSAUCER Water Coaster. Right from the beginning, riders are introduced to the unmatched racing experience that this attraction offers. The high-speed start launches riders at grade from zero to 30 feet-per-second, thanks to the power of the RocketBLAST propulsion, directly towards the first thrilling FlyingSAUCER turn.  
The ProSlide Water Coaster takes competitive racing to the next level by incorporating ProSlide's exclusive Dueling PIPElines in a face-to-face position for the first time. Heightening the race experience even more are multiple open flume RallyPOINTs: patented ProSlide technology with low divider walls and a u-shaped flume that allow riders to see and hear each other at strategic points in the race.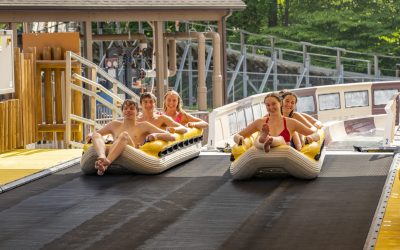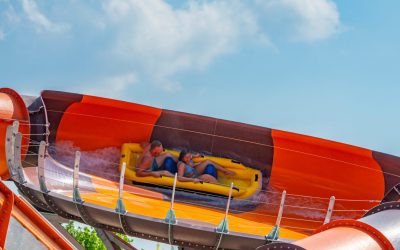 The Launched Dueling RocketBLAST/FlyingSAUCER Water Coaster is powered by ProSlide's next-generation BLAST technology. This propulsion relies on exclusive turbine technology to turn water into a powerful force capable of propelling up 100% steeper hills, moving 50% more capacity, and delivering 60% more efficiency. With precisely positioned jets along the ride path, BLAST moves boats throughout the ride while also ensuring that not an ounce of water is wasted.
Cheetah Chase also features two of ProSlide's exclusive, award winning, patented FlyingSAUCER turns. The ride feature mimics the experience of a giant slalom ski turn and utilizes the centrifugal forces along the outer wall to propel riders ahead in the race.
Dueling Water Channel Finish
The racing experience extends right to the very end with a side-by-side dueling finish created specifically for Holiday World's Cheetah Chase.  The riders power to the finish line in a head-to-head competition that is experienced throughout the ride from beginning to end.
The combination of the innovative LAUNCH technology, the head-to-head dueling zone, and distinctive water channel finish makes the Launched Dueling RocketBLAST/FlyingSAUCER Water Coaster something the world has never experienced before. Cheetah Chase is the latest in a long history of ProSlide and Holiday World collaborations that change the game in the water ride industry.
By the end of 2020 there will be close to 50 ProSlide Water Coasters installed around the globe.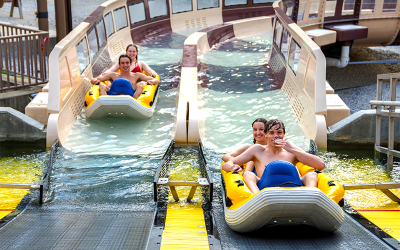 Proslide: transforming the best water parks in the world
From the first ProSlide Water Coaster to use linear induction motors, to the multitude of RocketBLAST ProSlide Water Coasters around the world, ProSlide has paved the way for advanced water rides since 1994. ProSlide's landmark technologies and innovations have set a high bar for the water ride industry and the opening of Cheetah Chase has raised that bar even higher.
For a more in-depth look at ProSlide's influence on the history of water coasters, read this article in the February issue of Park World Magazine. Check your inbox next month for the next issue of Studio Talk where we go more into depth on ProSlide's groundbreaking HydroMAGNETIC technology.
Copyright © 2020 ProSlide Technology Inc. All rights reserved. All content and design concepts herein are the exclusive property of or used under license by ProSlide Technology Inc.®, or its subsidiaries ("ProSlide®"), and may be subject to patent, trademark and/or copyright protection. The materials may not be copied, compiled, distributed or re-distributed without the prior knowledge and written consent of ProSlide.. Unauthorized use, release or duplication of any of the information contained herein may result in liability.