THE "AMERICAN DREAM" IS REALITY
American Dream, the much anticipated retail-tainment mega-complex just outside of New York City is opening its doors!
Located in East Rutherford, New Jersey, American Dream Meadowlands has been under development for over 20 years! A significant addition to the entertainment and leisure landscape, this destination  offers a multitude of world-class attractions and entertainment options, including:
450 retail shops
Over 100 eateries
Indoor NHL-sized rink
An indoor theme park
Two miniature 18-hole golf courses
An aquarium
An indoor ski slope.
Owned by Triple Five Group, American Dream's scale come as no surprise – the Edmonton, Alberta based development company owns two of North America's largest malls: Mall of America and West Edmonton Mall.  Triple Five used their proven and successful formula of combining entertainment and retail to differentiate their retail experiences from anything else, drive more traffic, and ultimately fuel their success.
The water park of your dreams
Leveraging their innovative technologies and bringing purposeful design to their approach, ProSlide further distinguished the park by setting several records along the way.
One of the key contributions to DreamWorks Water Park is a towering, one-of-a-kind custom mega-complex. With a mix of mat, tubing, and body slides all available through the complex, guests can access a wide variety of experiences from the same structure. This mix of rides all connected to one tower was made possible thanks to ProSlide's industry-leading engineering team, marking one of the largest mixes of rides ever combined into one tower. The complex includes several of ProSlide's world-class water rides:
FreeFALL
MultiBump
SuperLOOP ®
TWISTER x3
KrakenRACER ®
PIPEline x2
CannonBOWL ® 40
ProBOWL™
A balanced ride mix is an important consideration for water parks, as providing a variety of attractions ensures each guest can have an experience catered towards them. A large mix of rides in one tower provides guests numerous options for entertainment, in addition to easily accessible access points.
Record-setting attractions
Included in ProSlide's ride complement are two game-changing attractions, both setting their own individual world records. The park will be home to the world's tallest indoor body slide – FreeFALL – with a 142-foot drop straight into the flume. American Dream will also house the world's longest indoor HydroMAGNETIC® ROCKET® water coaster at almost 1,400 feet in length. The best-in-class water coaster runs in an elevated position around the entire length of the park, giving guests a view of the excitement no matter where they are. As one of the main anchor attractions, the HydroMAGNETIC ROCKET brings the speed and acceleration of a rollercoaster experience to water rides. Powered by linear induction motors, the coaster drives faster speeds, higher loads, and steeper inclines than any other water ride technology in the world – cementing the ride's transformative appeal.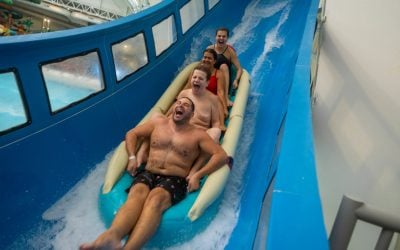 Further distinguishing American Dream is the immersive theming with recognizable intellectual properties integrated throughout its entertainment attractions. Theming is an important element of every successful water park, enhancing world-class attractions with imaginative elements and creative designs that captivate guests. It creates evocative storytelling to deliver an immersive experience that leaves a lasting impression on guests. Working with theming vendors in both Canada and China, ProSlide has access to the best theming experts in the world that customize beautifully hand-crafted designs to suit a client's vision and create their dream water park. DreamWorks Water Park is a prime example of this. Through their association with DreamWorks,the water park is able to leverage their instantly recognizable cast of characters across film and television. As guests explore the many rides, attractions, and amenities throughout the water park, they're likely to encounter faithful recreations of familiar faces from DreamWorks franchises like Shrek, Kung Fu Panda, and Madagascar.
PROSLIDE: THE INDOOR WATER PARK LEADER
ProSlide's water rides define some of the best water parks in the world and American Dream is no different. With a world-class mix of rides, record-setting attractions, and industry-leading theming integrated with recognizable intellectual property, American Dream is set to become part of the pantheon of iconic water parks.
Check your inbox next month for the next issue of Studio Talk where we cover some of the creative ways outdoor rides can be incorporated into indoor water parks.
Copyright © 2020 ProSlide Technology Inc. All rights reserved. All content and design concepts herein are the exclusive property of or used under license by ProSlide Technology Inc.®, or its subsidiaries ("ProSlide®"), and may be subject to patent, trademark and/or copyright protection. The materials may not be copied, compiled, distributed or re-distributed without the prior knowledge and written consent of ProSlide.. Unauthorized use, release or duplication of any of the information contained herein may result in liability.