Storia gentilmente concessa da GoErie.com (29 luglio 2017)
Nessuno ha esitato nel correre verso la linea del fronte alla battaglia del lago Erie, in un ventoso venerdì pomeriggio.
Molti ne sono usciti come soldati intirizziti, ma l'inaugurazione della nuova attrazione acquatica del Waldameer Park & Water World, che porta il nome del famoso scontro navale del 1812, è stata sicuramente una vittoria. Specialmente per i visitatori del parco, ignari del fatto che sarebbero stati i primi a sperimentare la novità.
"È davvero un'attrazione incredibile!" dichiara Wayne Christ, 39 anni, arrivato da Pittsburgh con la moglie e le due figlie per godersi una giornata di divertimento. Dopo aver percorso uno dei sette scivoli era completamente zuppo.
Altri visitatori si sono ritrovati inzuppati dopo essere passati sotto un secchio gigante alto 12 metri, progettato per assomigliare alla barca a vela U.S. Brig Niagara, che periodicamente si svuota spruzzando d'acqua i passanti.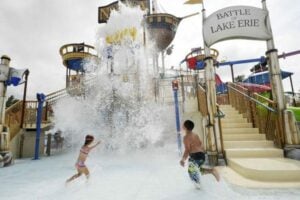 (Battle of Lake Erie, ProSlide RideHOUSE® 500)
Ma è praticamente impossibile stare vicini all'attrazione senza inzupparsi. I getti d'acqua arrivano ininterrotti dai vari giochi e passaggi dell'attrazione.
"Bisogna prepararsi ad essere travolti dall'acqua!" afferma Steve Gorman, il presidente del parco.
Paul Nelson, amministratore delegato dell'attività a conduzione familiare, racconta che l'attrazione è una delle strutture per giochi acquatici più grandi nella sua categoria.
La costruzione, costata quasi 2,5 milioni di dollari, è iniziata a febbraio ed è stata ultimata all'inizio di questo mese.
Gorman spiega che l'attrazione è stata studiata per conquistare i visitatori di una gamma d'età più vasta rispetto a molti altri scivoli del parco, dedicati ai più piccoli.
La Battle of Lake Erie non ha limiti di altezza, anche se tre dei suoi scivoli sono pensati per bambini e ragazzi. Ma Max Spaulding, nove anni, non ha paura di nulla: è stato la seconda persona ad affrontare la discesa su uno degli scivoli più grandi.
"È stato molto divertente", ha affermato Spaulding. "Lo scivolo era più lungo di quanto mi ero immaginato!"
Nelson e Gorman stanno già iniziando a pensare al futuro. La costruzione di un nuovo scivolo all'altro lato del parco comincerà a settembre.
Ma questo venerdì, Nelson ha passato qualche minuto ad ammirare l'architettura della nuova attrazione.
"Erie non ha nulla da invidiare ad altre località o ad altri parchi acquatici", ha concluso.