ProSlide Technology Inc.®, líder del sector del diseño y la fabricación de atracciones acuáticas, se ha asociado con Wilderness Resorts and Waterparks para abrir el Soaky Mountain Waterpark. Esta parque acuático de exterior de 20 hectáreas y la máxima calidad situado en la región de Smoky Mountain, en Tennessee, abarca seis complejos personalizados de ProSlide con 17 atracciones acuáticas de alto rendimiento. En tanto que instalación independiente más grade de Estados Unidos en 2020, el Soaky Mountain Waterpark acogerá la primera ProSlide KIDZ WAVE y Avalaunch, la primera montaña rusa RocketBLAST® del mundo con cuatro FlyingSAUCERs® un espectacular final TornadoWAVE®.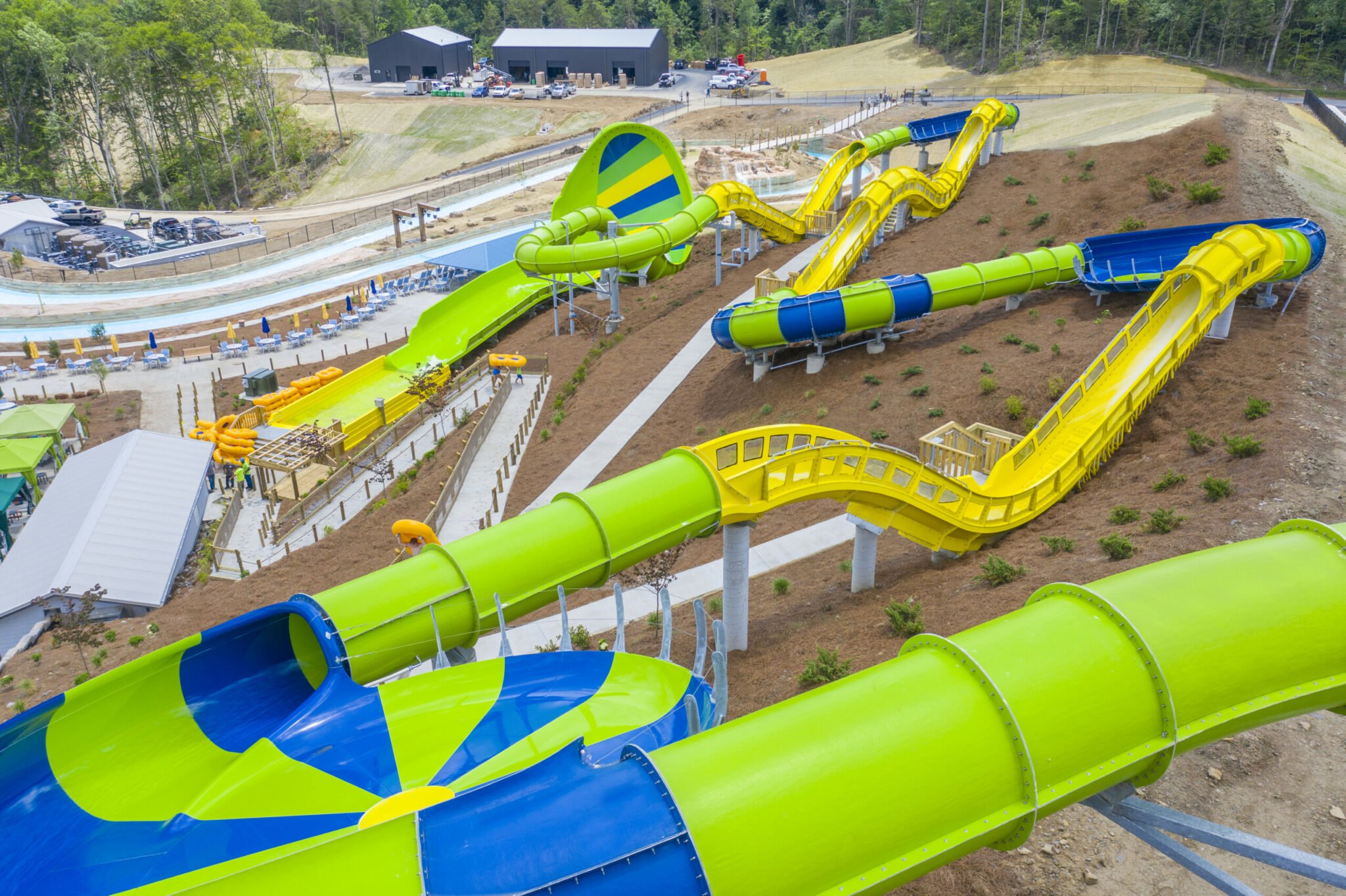 «El Soaky Mountain Waterpark incorpora la tecnología más nueva y de pensamiento más avanzado que existe actualmente en el sector», explica el vicepresiente sénior de Cuentas Estratégicas de ProSlide, Jeff Janovich. «Avalaunch marca la primera vez que combinamos la tecnología RocketBLAST de próxima generación con nuestros elementos TornadoWAVE y FlyingSAUCER. ¡Y el resultado es una atracción increíble de principio a fin! A ello se suma la primera KIDZ WAVE, el primer Triple FlyingSAUCER 45/MAMMOTH® en suelo estadounidense y el segundo Double TornadoWAVE. Soaky Mountain establece así un nuevo estándar en parques acuáticos. En sus instalaciones, cada visitantes podrá experimentar el mejor conjunto de atracciones de ProSlide de 2020.  Es la nueva generación de los mejores parques acuáticos del futuro». Soaky Mountain Waterpark incorpora asimismo otras atracciones emblemáticas de ProSlide, como:
Dueling PIPEline
PIPEline
TORNADO® 18
TurboTWISTER + SkyBOX®
FreeFALL
RallyRACER®
RideHOUSE®
Ubicado en Sevierville, en la pintoresca región de Smoky Mountain, en Tennessee, su ubicación privilegiada permitió al equipo de diseño de recorridos de ProSlide aprovechar la topografía natural de la zona para desarrollar atracciones con recorridos exclusivos. «Construir en un paisaje montañoso como el nuestro tiene muchas ventajas. Permite usar el alzado natural de la montaña para crear la altura de la torre de toboganes», explica el director de Operaciones de Wilderness Resorts and Waterparks, Joe Eck. «Sabíamos que ProSlide aprovecharía las montañas únicas de nuestro entorno para proporcionarnos algos que superara con creces nuestras expectaciones más descabelladas, algo que solo pudiera experimentarse en Soaky Mountain Waterpark».
El diseño y los trazados de muchas de las atracciones del Soaky Mountain Waterpark se complementan con nuevos efectos innovadores creados por ProSlide dentro de las atracciones. «Al estar en un entorno montañoso, queríamos realzar la experiencia de las atracciones aprovechando la naturaleza en la medida de lo posible», explica Melissa Poirier, directora del Creative Studio de ProSlide. «Ello nos decidió a aprovechar la abundante luz natural, que permitimos filtrarse a través de los tubos de fibra de vidrio creando patrones específicos. Esta luz solar dirigida crea efectos dentro de las atracciones, lo cual permite al bañista vivir una experiencia inmersiva que no solo realza su sensación de velocidad, sino que, además, es un festival para los ojos ».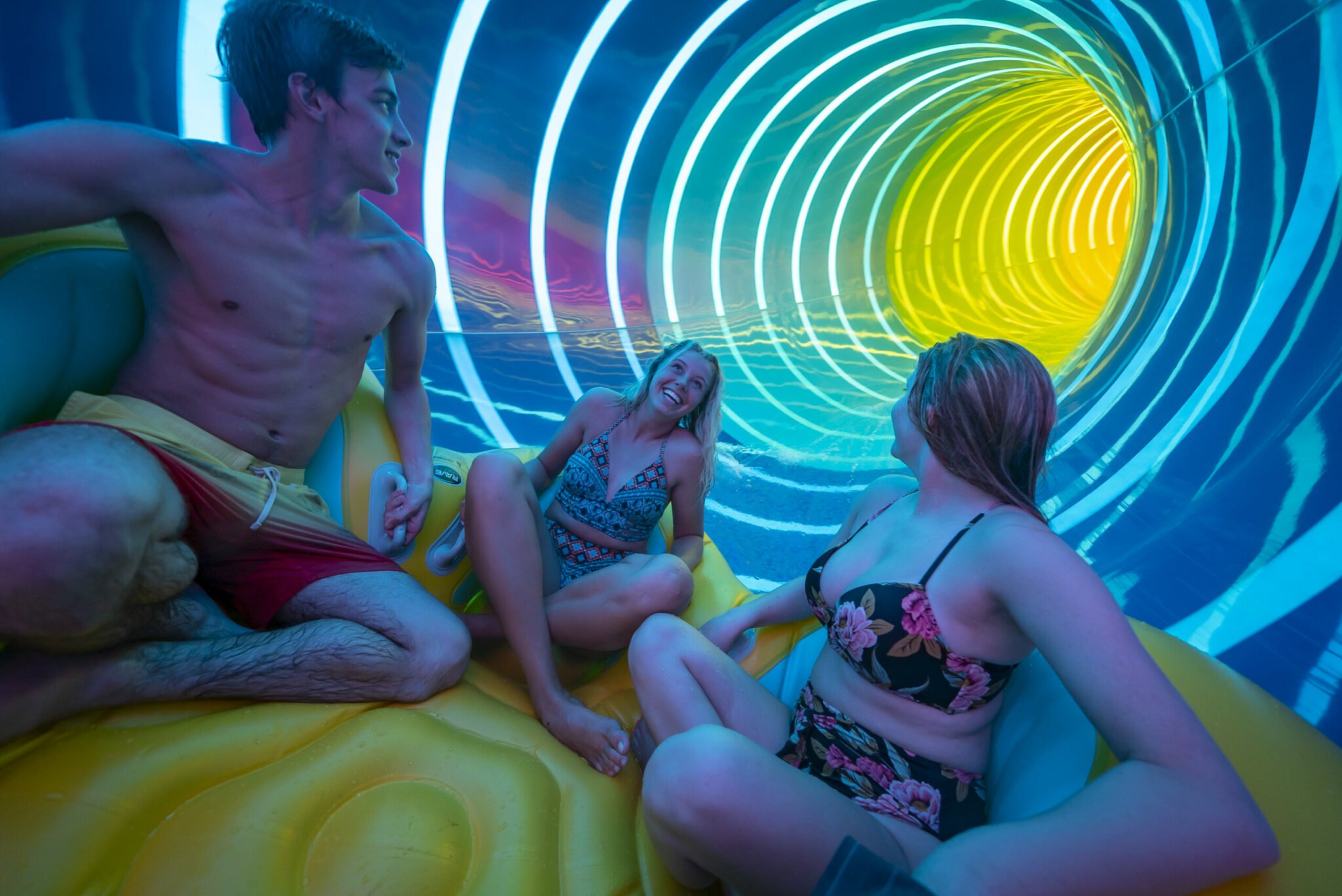 Soaky Mountain Waterpark es el tercer proyecto de colaboración entre ProSlide y Wilderness Resorts and Waterparks, tras haber trabajado previamente en The Wilderness Resort en Wisconsin Dells y Wilderness at the Smokies en Sevierville. Está previsto que el Soaky Mountain Waterpark atraiga a más de 400 000 visitantes anuales a la región y está situado frente a Wilderness at the Smokies.
Acerca de ProSlide
ProSlide es el líder mundial en diseño y fabricación de atracciones acuáticas de alto rendimiento, que suministra tanto a parques acuáticos nuevos como en expansión de todo el mundo.
Durante más de tres décadas, ProSlide ha liderado el mercado de la innovación y la tecnología de atracciones acuáticas, con más de 100 premios y reconocimientos en su haber, incluidos 15 premios IAAPA a la Mejor Atracción Acuática Nueva en los últimos 18 años (cinco veces más que el resto de fabricantes juntos) y cuatro premios IMPACT de IAAPA.
Nuestras emblemáticas atracciones acuáticas están presentes en los mejores parques del mundo, incluidos Disney, Six Flags, Premier Parks, SeaWorld, Universal y Parques Reunidos, entre muchos otros.
Para más información, contacta con ProSlide en: [email protected]