Noticia publicada por cortesía de GoErie.com (29 de julio de 2017)
Nadie dudó en lanzarse a la Batalla del lago Erie aquella tarde ventosa de un viernes.
Muchos salieron como soldados temblorosos, pero puede afirmarse sin temor a incurrir en error que la inauguración a las 15h00 de la nueva atracción acuática del Waldameer Park & Water World, bautizada en honor a la famosa batalla de la guerra de 1812, fue una victoria incontestable, sobre todo para los visitantes del parque que desconocían que serían de los primeros en probarla.
«Es sensacional», afirmó Wayne Christ, de 39 años de edad y procedente de Pittsburgh, que había acudido al parque junto con su esposa y sus dos hijas para pasar un día divertido. Estaba empapado tras haber descendido por uno de los siete toboganes de la atracción.
Otros también estaban calados hasta los huesos, tras haberse quedado de pie bajo un cubo situado a 12 metros de altura y diseñado para emular el buque de guerra «U.S. Brig Niagara» que vacía periódicamente el agua sobre las personas que hay bajo él.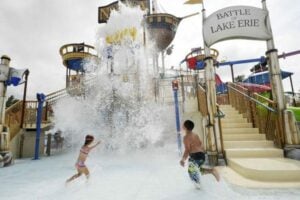 (Battle of Lake Erie, RideHOUSE® 500 de ProSlide)
Es prácticamente imposible estar cerca de la atracción sin mojarse. Desde las muchas pasarelas y juegos interactivos se disparan constantes chorros de agua.
«Hay que venir preparado para acabar calado hasta los huesos», explica Steve Gorman, presidente del parque.
Paul Nelson, director general de este negocio familiar, aseguró que la atracción es una de las estructuras de juegos de agua de mayores dimensiones de su género.
La construcción de este elemento acuático con un presupuesto que rondó los 2,5 millones de dólares dio comienzo en febrero y se concluyó a principios de este mes.
Gorman explicó que la estructura está concebida para llegar a un público más amplio que las atracciones del parque orientadas al segmento infantil.
La Battle of Lake Erie no impone requisitos de altura, aunque tres de sus toboganes están concebidos para un público más adolescente. Sin embargo, a Max Spaulding, de nueve años, eso no le importó lo más mínimo. Fue la segunda persona en lanzarse por uno de los toboganes más grandes.
«Ha estado muy bien», explicó Spaulding. «Es mucho más largo de lo que me esperaba».
Nelson y Gorman ya piensan en el futuro. El inicio de la construcción de un nuevo tobogán que está previsto ubicar en el otro extremo del parque acuático está programado para septiembre.
Sin embargo, el viernes Nelson dedicó unos minutos a observar embelesado la estructura de la nueva atracción.
«Con Erie, no tenemos nada que envidiar a nadie», sentenció.