Siam Park: Leading Edge Award 
Dieser von TripAdvisor® mit der Nummer 1 bewertete Park schiebt die Grenzen der Innovation immer weiter hinaus und hat in diesem Sommer eine weitere Weltneuheit in Form einer Hybrid-Wasserachterbahn vorgestellt. Singha kombiniert zwei neue, exklusive ProSlide®-Technologien in einer Bahn, einen Hybriden: FlyingSAUCER®/ RocketBLAST®. "Ihre konstante Beschleunigung, die extremen Kurven und die adrenalinfördernden Drops werden die Gäste über Jahre hinweg in unseren Park treiben", sagt Christoph Kiessling, Managing Director des Siam Parks.
Zu den weiteren Gästelieblingen im Siam gehören Ikonen wie der Dragon (ein ProSlide® TORNADO® 60), Kinnaree (TORNADO® 24/TornadoWAVE®) und der Tower of Power (ein ProSlide® FreeFALL™), der durch ein Haifischbecken hinab führt.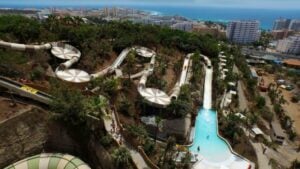 Singha, ProSlide®: FlyingSAUCER® / RocketBLAST®
Siam Park, Spanien
Kalahari Resorts, Pocono Mountains: Leading Edge Award
"ProSlide® steht hinter ihrer Arbeit, anders als jeder andere in der Branche", sagt Todd Nelson, Präsident der Kalahari Resorts. Das ist der Grund, warum sie sich für beide Phasen ihrer neuen Anlage in den Pocono Mountains an ProSlide® gewandt haben. Phase eins eröffnete diesen Sommer mit 12 Bahnen und der neuesten Generation des RideHOUSE® 600.
Die kundenspezifische Anlage von ProSlide® mit vier Rinnen umfasst die weltweit erste Indoor-TornadoWAVE®, eine ProBOWL™, einen Hybriden: TORNADO® 24/TORNADO® 24/ TORNADO® 24 und eine Körperrutsche TWISTER™.
Die Positionierung des Komplexes in einer Ecke des Parks ermöglicht es diesem, seine geplante Erweiterung im Jahr 2017 problemlos unterzubringen: es werden die Mauer entfernt und neue Bahnen an den bestehenden Turm angebaut. Die zweite Phase des Parks wird über 10 weitere Attraktionen beinhalten, was ihn zum größten Kalahari Wasserpark machen wird.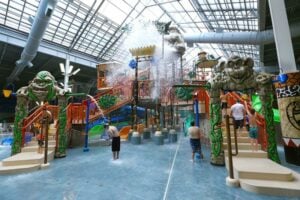 Splashdown Safari, ProSlide® RideHOUSE® 600
Kalahari Resort Pocono Mountains, USA
Everland Caribbean Bay: Board Award
Dieser Weltklasse-Wasserpark, der drittgrößte im asiatisch-pazifischen Raum, zog im Jahr 2014 1,5 Mio. Besucher an. In diesem Sommer wandte man sich wegen seiner Hauptattraktion mit der höchsten Kapazität an ProSlide®. Das Ergebnis: der Mega Storm. Es handelt sich um einen 6-Personen-Hybriden: HydroMAGNETIC® MAMMOTH®/ TORNADO® 60, dem Gewinner des IAAPA Award "Best New Water Park Ride 2013" (Beste neue Wasserparkbahn 2013).
Das Projekt hatte so einen Erfolg, dass der Park einen zusätzlichen Monat geöffnet blieb – nur mit dem Mega Storm und dem Lazy River in Betrieb – um die Nachfrage zu befriedigen!
Mega Storm, ProSlide® HydroMAGNETIC® MAMMOTH®/TORNADO® 60
Everland Caribbean Bay, Südkorea
Und schließlich ein besonderer Glückwunsch an Andreas Tanzer, unseren Director of Research & Design und Co-Vorsitzenden des ASTM-Sicherheitsausschusses. Seine Beiträge wurden auch von der WWA mit einem zweiten Kelly Ogle Memorial Safety Award gewürdigt. Andreas ist ein unermüdlicher Fürsprecher für die Sicherheit von Wasserbahnen und ein Hauptarchitekt der ASTM-Standards für unsere Branche. Herzlichen Glückwunsch!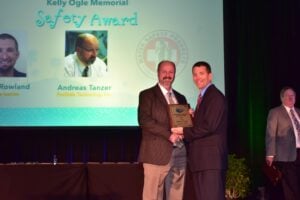 Um mehr über Wasserbahnen zu erfahren, die Ihren Park auf die Gewinnerliste setzen könnten, kontaktieren Sie bitte . Oder buchen Sie ein persönliches Treffen mit uns bei einer wichtigen Branchenveranstaltung in diesem Herbst. Wir werden in Göteborg, Schweden auf der IAAPA Euro Attractions (EAS), Stand Nr. B902, in Palm Springs für die WWA der World Waterpark Association, Stand Nr. 601 und in Orlando für die IAAPA Attractions Show (IAAPA), Stand Nr. 5139, sein.